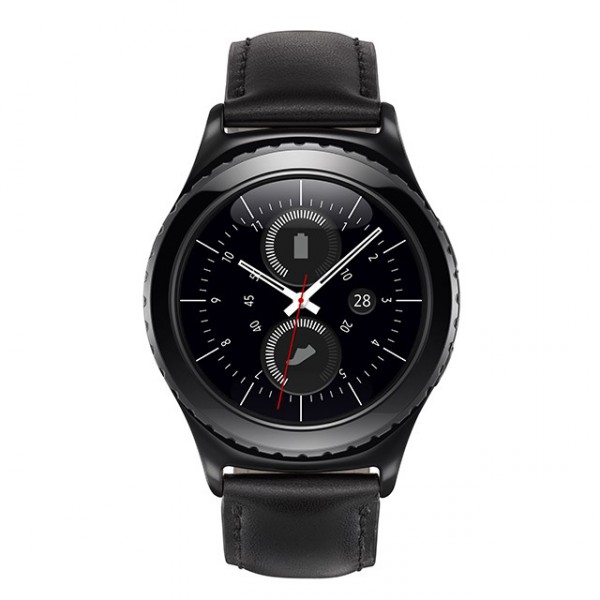 The wearable market is not very mature. We are only starting to scratch the surface of what the future holds. For the time being, however, we pretty much have alerts and fitness tracking. Let's be honest, many computer and gadget nerds don't bother with exercise (prove me wrong, people), making the wearables a glorified alert screen. In other words. as fun as Apple Watch and Android Wear can be, they are very much version 1.0 of smartwatches.
While Samsung embraces Android Wear, its Tizen-based models, such as Samsung Gear S, have more functionality. Today, the company officially announces the beautiful successor — the Gear S2. Users can even opt for a 3G model so they do not need Wi-Fi or to be tethered to a phone. Android Wear and Apple Watch can't do that…yet.
"Introduced in two different options — the Gear S2 and the Gear S2 classic — Samsung designed the Gear S2 to appeal to two distinct consumer preferences. The Gear S2 classic is made for users who prefer a more timeless watch design, offering an elegant Black finish with a matching genuine leather band. The Gear S2 is ideal for those who are on-the-go and have an admiration for minimal and modern design", says Samsung.
The company further says, "for the ultimate convenience, the Samsung Gear S2 comes with NFC technology which will enable mobile payments without the need for a wallet. Samsung is working with a wide selection of partners across different industries to expand the usability of wearables and streamline consumers' mobile lives in a variety of ways, including smart car keys, residential room keys, and remote controls to manage a connected home".
Samsung shares the following specs.
Display
1.2 inch, Circular Super AMOLED, 360×360, 302ppi
AP
Dual core 1.0 GHz
OS
Tizen based wearable platform
Audio
Codec: MP3/AAC/AAC+/eAAC+
Format: MP3, M4A, AAC, OGG
Memory
Storage: 4GB Internal Memory / RAM: 512MB
Features
Communications:
– Contacts, Notifications, Messages, Email, – Preset text, Voice Input, Emoticons, Keypads
Health & Fitness:
– S Health, Nike+ Running
Information:
– Schedule, News, Maps & Navigation, Weather
Media:
– Music Player, Gallery
Others:
– Voice, Voice Memo, Find My Device, Power Saving Mode, Safety assistance, Privacy lock
IP68 Certified Dust and Water Resistant
Samsung Services
Samsung Gear Apps
Connectivity
Wi-Fi: 802.11 b/g/n
Bluetooth 4.1
NFC
Sensor
Accelerometer, Gyroscope, Heart Rate, Ambient Light, Barometer
Dimension
Gear S2: 42.3×49.8×11.4mm (47g)
Gear S2 classic: 39.9×43.6×11.4mm (42g)
Gear S2 3G: 44.0 x 51.8 x 13.4mm (51g)
Battery (Gear S2 and S2 Classic)
Wireless Charging
250mAh Li-ion
Typical Usage 2~3days
Battery (Gear S2 3G)
Wireless Charging
300mAh Li-ion
Typical Usage 2 days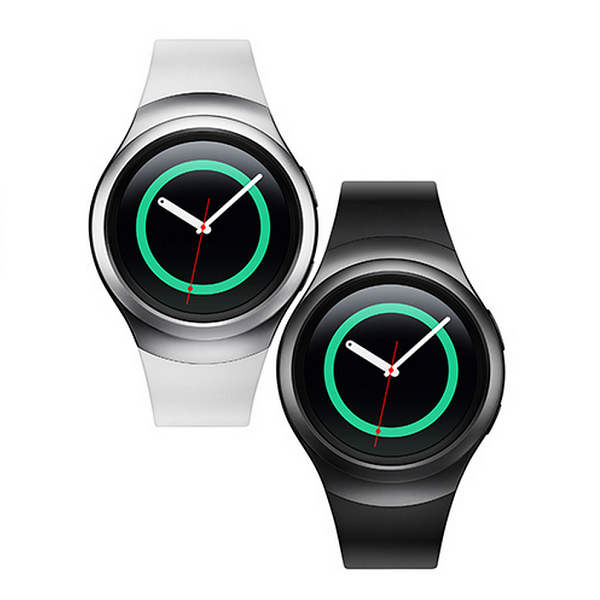 Understandably, Android fans may be hesitant to buy a smartwatch that isn't compatible Android Wear. With that said, there are arguably no game-changing apps for Google's young platform at the moment; Tizen OS is very promising. The Gear S2 offers some unique functionality, such as optional 3G compatibility and the ability to make voice calls.
I am particularly intrigued by the hardware-based navigation. A rotating bezel is genius, and physical home and back buttons are greatly appreciated. Android Wear, by comparison, is very swipe-heavy which can become laborious.
While I don't normally like watches with leather bands, the S2 Classic really appeals to me. I am OK with a smartwatch not looking like a traditional timepiece (like Microsoft's Band), but damn, the S2 Classic is just so smooth. It can be worn to work, when relaxing on the weekend, or to a fancy dinner. Versatile.
With all of that said, pricing is still a mystery (as is availability). The Samsung Gear S2 should be available in the Fall. If you want the 3G model ( like I do), both Verizon and T-Mobile have pledged to carry it.
Will you buy the Samsung Gear S2? Tell me in the comments.
Samsung Gear S2 (both Bluetooth & 3G connected models) will be avail from Verizon. Availability & pricing will be announced at a later date
— Verizon News (@VerizonNews) August 31, 2015
You know your wrist wants it. Be there when the #SamsungGearS2 hits the Un-carrier this fall! pic.twitter.com/jNIaSPoI8h
— T-Mobile (@TMobile) August 31, 2015