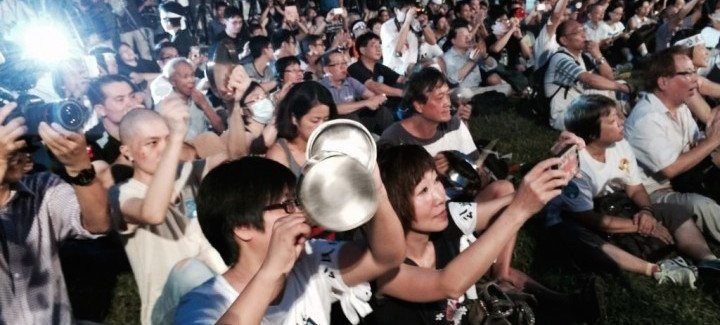 We've all experienced it: that time when you so badly needed to send a message to someone but you couldn't get a signal and there was no internet connection either.
FireChat by San Francisco-based startup Open Garden is a solution that's gonna boggle your mind.
The app allows its users to communicate with each other without being connected to the internet or in the absence of a cellular network. It made headlines around the world last year when it was used as a chatroom during protests. Last month, it launched an update, allowing private messaging off the grid.
How, you ask? By creating a mesh network using phones' Bluetooth or wifi. This means two devices with FireChat installed can send messages to each other across a distance of 210 feet.
But if more devices are connected, the range increases in a sort of a daisy chain – messages hop from one device to another until they reach you. "In the case of private messages, only the sender and receiver can see the messages since they are encrypted end-to-end. The devices between the endpoints act as 'blind postmen,'" explains FireChat's Marina Azcarate.
So in a city, Marina estimates a message would take an average of 10 minutes to travel from any point assuming that 5 percent of the population has the app installed.
For those who still can't grasp the concept, the app is really useful on airplane or subway rides, or in situations where it's necessary to cut off the signal like when a high-level global official visits your area.
It could be used in festivals or civic events, where networks get bogged down by heavy traffic. Remember the "Occupy Central" protests in Hong Kong? Demonstrators thought the Hong Kong government would shut down the internet so they downloaded the app. Though this never happened, the app proved to be a big help when networks got congested. It was the same story for the "Sunflower Movement" in Taiwan.
While the app has become a popular tool in protests, in developing countries like the Philippines, it wants to serve another purpose. It wants to help people during disasters and save lives.
Disaster recovery and preparedness
Each year, the Philippines is hit by an average of 20 typhoons, which are named according to the local alphabet, starting from A and ending at Y.
In 2013, so many typhoons came that the government ran out of letters to name them, and had to start at A again. That same year, Super Typhoon Yolanda – known as Haiyan internationally – one of the strongest ever recorded on land, tore through a large portion of the Philippines, leaving thousands of people dead or missing.
A wave of aid from international organizations came in, while countries from around the world pitched in.
From relief, the focus shifted to community rebuilding, and now to disaster risk reduction and preparedness. The goal is to make the Philippines more resilient to more Haiyans that will come.
So in practice, how does FireChat actually help? Marina says, "FireChat is the only app that can function during a natural disaster, when networks get destroyed." If enough people are using the app during such situation, they can still send messages through. For local officials and stakeholders, this means faster rescue and relief efforts, which is critical in saving lives.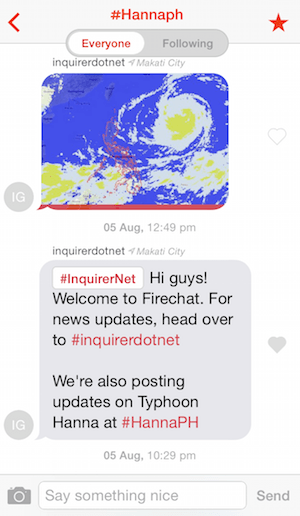 Marina says since April, the app has been used by the largest media groups in the Philippines for disseminating information on typhoons.
"We call this 'Typhoon Watch.' What's unique about it is it enables dissemination of critical information in real time and at a large scale," she explains.
"Tens of thousands of users in the Philippines can see all the messages immediately in one uninterrupted thread and on [an] interface that is as easy to use as a messaging app and works even when networks are poor or non-existent. Users can also contribute hyper-local information about the conditions in their areas so it is also a crowdsourcing mechanism for critical information," she adds.
Typhoons aren't the Philippines' only problem. The country lies on the Pacific ring of fire, making it prone to earthquakes and volcanic eruptions. FireChat's use case could be extended to these other disaster situations.
In fact, the startup is actively involved in preparing for "The Big One" – a feared magnitude 7.2 earthquake that's expected to hit Manila once the West Valley fault system moves. The government said this shift is "ripe" which means the earthquake may strike any time.
With all these in mind, Open Garden is partnering with the United Nation's Office on the Coordination of Humanitarian Affairs in the Philippines and the government's Project Noah, a platform that provides information on the possible occurrence of floods and other hazards to give people ample time to prepare.
New gadget
Open Garden's innovation doesn't stop with FireChat. It will also pilot a messaging beacon called GreenStone in the Philippines.
GreenStone is a device that's the size of a small egg and contains a memory card, a Bluetooth radio, and a replaceable battery. It extends the peer-to-peer mesh network created by devices with FireChat to cover bigger areas like a barangay or village.
Essentially, it acts as an additional node in the mesh network – as if it's an extra FireChat user. So when a FireChat user walks by the GreenStone, the device automatically picks up the messages inside the user's phone and relays them to the next user.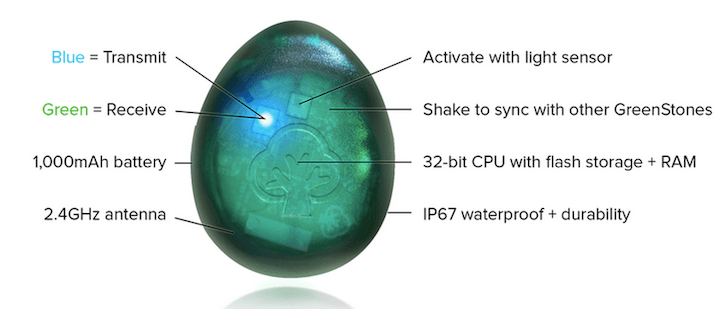 Marina says Open Garden is developing the device in partnership with Making All Voices Count, the international non-profit organization behind the Tech4Resilience competition, which Open Garden won in July. The device will be launched commercially in the next couple of months.
Since its birth in 2011, Open Garden has raised US$13 million in total funding from various angel investors and VC firms including August Capital, Kima Ventures, Sherpalo, Future Perfect Ventures, and Digital Garage.
To date, FireChat downloads have reached 6 million around the world, with the top 10 markets being the US, Hong Kong, India, Russia, Mexico, Brazil, China, the UK, Japan, and Spain.
FireChat is also among the top 10 social networking apps in 124 countries around the world.
Looking back at how it all started, Marina can't believe how far they've come along. "In 2011, we asked ourselves a question: 'could we make our smartphones an extension of the internet?' We thought we could. Now we are doing it."
"There are already one billion mobile devices in the world," she adds. "However, traditional networks are struggling to cope with the demand for mobile data. We want to help connect the next billions of devices with networks that do not depend on centralized infrastructure."
This post After making waves at protests, FireChat wants to help save lives during disasters appeared first on Tech in Asia.