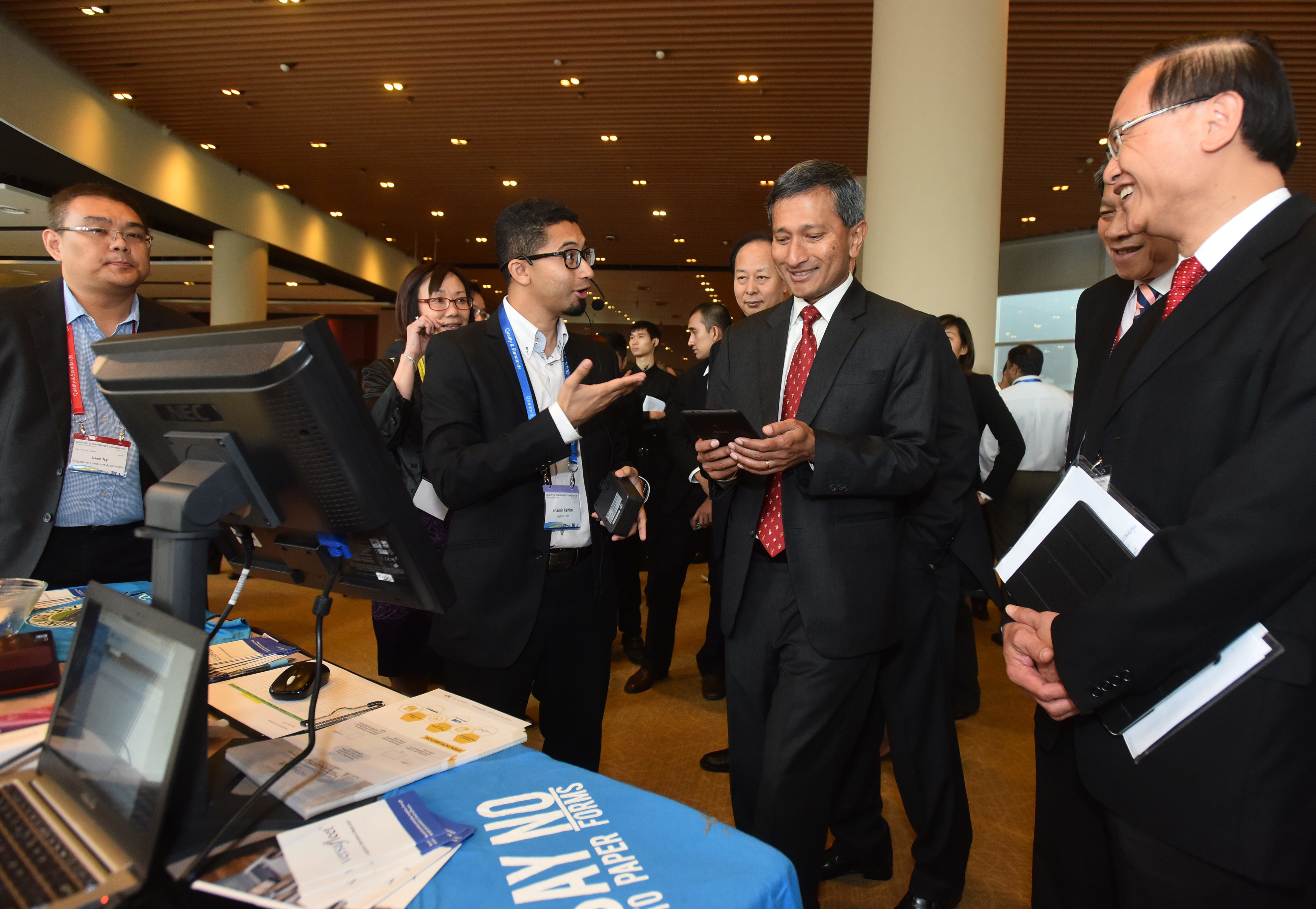 Minister in charge of Smart Nation, Vivian Balakrishnan (right), with founder of Sypher Labs Shamir Rahim.
I'd forgotten how formal business conferences are. Yet, there I was, wearing what I deem to be formal attire – a white, buttoned shirt with brown chinos – standing out in a roomful of suits.
For some of the tech entrepreneurs exhibiting at the Quality and Standards Conference in Singapore, they probably felt a little out of place too. It was a rare convergence between the world of dynamic and fast-moving tech startups, and the world of standards and compliance.
See the ISO logos that companies proudly display on their product packagings and storefronts? These marks of distinction tell customers that the business adheres to international standards, and is therefore worthy of patronage. You get the idea.
In any case, here was the big reveal when I was there: the Singapore government has crafted standards stipulating how people should deploy internet-connected sensors in homes and public places. The goal is to allow seamless exchange of data between devices and software of all types. This is just the first stage. In the future, it'll release standards relating to all areas of technology.
This announcement sounds mundane, but bear with me. Conforming to global standards, and leading the charge in crafting them, is foundational to Singapore's plan of becoming a smart city (the government dubs this Smart Nation), in which the entire country and all the objects within are computerized and wired up to the internet.
What results is optimized traffic flow, healthcare, education, governance, and commercial enterprise. This is the so-called Internet of Things. So, for various "things" – cars, traffic lights, phones, or any object – to talk to one another, they must speak the same language. This can happen only if all parties agree to a set of documents stating how data should be created and handled. That's the role of open standards – standards which are available for public viewing, and which can be freely implemented.
A guiding hand
Think about how you're reading this article right now. The internet is built on standards. And the struggle to define standards is long, cutthroat, and lucrative. TCP/IP eclipsed OSI to become the de facto protocol of the web. Big tech companies are supporting NFC as the standard for wireless mobile payments. And China wants to push LTE-TDD, a standard for 4G networks that it has a stake in. Commercial entities want to see the technologies they've invested in become the global norm. Switching is costly, and should be avoided at all costs.
Singapore knows this, and it's trying to take the lead in crafting the next generation of standards. In a speech, Vivian Balakrishnan, the minister in charge of Smart Nation, swatted away the notion that the country's diminutive size is a death sentence:
"We have to make ourselves relevant to the world. For standards, we cannot dictate, but because we facilitate innovation, we enable prototyping and test-bedding. Because people know that we are neutral, we are fair, we are competent, and we are honest; we can play a small but relevant role in establishing standards for the world."
Here is Singapore's plan: it wants to anticipate future trends like Internet of Things, and define standards for them before anyone else. It'll incorporate existing open standards into the fold while filling in the gaps. Then, using its Switzerland-of-the-East reputation, it'll gently prod the international community towards adopting them.
To accomplish this, it needs to move fast. And it can. The Singapore government is probably the most efficient and coordinated in the world. Take for example the government agencies involved in its standards endeavor: SPRING Singapore, the Infocomm Development Authority of Singapore, and the Smart Nation Programme Office. These bodies aren't strangers; they've been working together on a whole host of initiatives, and they appear to be succeeding.
While parties in other nations may be squabbling over protecting their own turfs, Singapore has already pushed out two technical references for sensor networks – the TR-38 and TR-40. The next step is getting these standards accepted on globally recognized entities like the International Organization of Standards (ISO) – and that's where its branding and diplomacy comes in.
First mover
It's no accident that the ISO has a regional office in Singapore. Choy Sauw Kook, assistant CEO of SPRING Singapore, explained how the government is working with such international bodies.
"We will participate in identifying all these relevant technical committees and workgroups internationally. And we'll work with our standards council to participate actively in the development of these standards," she said.
"We'll try to see how we can blend in and harmonize, and if [a relevant standard is] already available internationally we will adopt it and push it out to our Singapore companies."
But why does Singapore want to be the first mover and thought leader in this area? After all, Smart Nation aims at improving the lives of citizens, so harmony within Singapore would appear sufficient.
Fact is, Singapore is an export economy with an insignificant domestic market. To thrive, it needs local enterprises to become global giants. Being a leader in standards accomplishes that aim.
Here lies the chink in Singapore's armor: it lacks a homegrown multi-billion dollar tech company like Google or Apple to push standards abroad. The government knows this painfully well. Developing homegrown startups has been an aim of the state for half a decade, predating Smart Nation.
So, by helping local firms adopt global standards, it aids their global expansion since they would've internalized them from day one. And the stronger these companies become, the more leverage Singapore will have in defining standards.
Making Singapore conform to standards turns it into a better testbed for technology too. Global tech firms can test a concept in Singapore and roll it out to other countries, confident that the product doesn't need to be overhauled.
The narrative in tech has always centered around the so-called Great Men of History – the charismatic founders of startups who take their idea from a garage project to a world-beating enterprise.
But behind these stories is something unglamorous: these same tech companies rely on open standards to push products out faster and make it delightful for users.
A homegrown global tech firm using homegrown standards – that's Singapore's new benchmark.
This post For Singapore to innovate, it needs to conform appeared first on Tech in Asia.