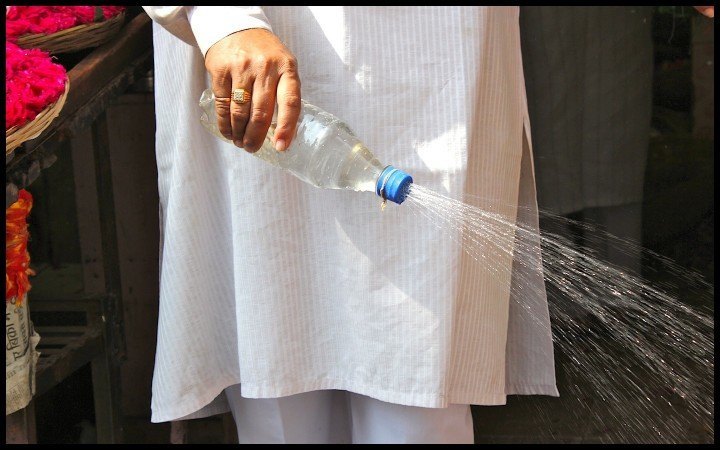 At Innofest 2015, Nandan Nilekani, the co-founder of Infosys, explained that "jugaad was the result of a dysfunctional system". Jugaad, a colloquial Hindi word that refers to the innovation that occurs under constrained circumstances, was added to the Oxford Advanced Learner's Dictionary last year and has come to represent the spirit of Indian innovation.
This innovation generally exists out of a need to bypass the rules of a system that will otherwise not allow for success.
For example, in the following photo, a man pokes holes in the cap of his water bottle in order to use it as a spray. Instead of having to purchase a special spray bottle, the invention allows him to minimize costs and make use of the resources that exist around him.
Whether it involves broken belt buckles that have been replaced with forks, small chairs tied to the front of motorcycles to provide extra seating, or washing machines used to churn out butter and lassi, a yogurt-based drink, examples of jugaad can be seen every day in India.
Jugaad is not limited to fixing daily issues. Dr. Pushkar Waknis was recently in the news for using a paper clip to keep skin flaps in place while performing surgeries, thereby avoiding the US$800 cost of the otherwise expensive medical device.
The many sides of jugaad
When jugaad first made its appearance in Indian culture, it referred to those that were using their resources to manipulate their way out of a situation. Those who employed jugaad were seen as clever but untrustworthy.
Over the years, however, the meaning has evolved from cunning to ingenious. In business schools and corporations, acts of jugaad are now referred to as "crisis management" and "frugal innovation". Elsewhere, the "make do with what we have" attitude has been heralded as the best method for those in emerging economies to survive.
Not all reactions to jugaad are positive, however. While it represents frugality, ingenuity and minimalism to some, others feel that the word denotes a quick, immediate fix that will eventually have long-term repercussions.
When is jugaad innovation? And when isn't it?
In 2014's Global Innovation Index, India was ranked the 76th most innovative country in the world. That was ten places lower than the year before. While India scores highly in aspects like IT services exports and the quality of its universities, it is ranked dismally low in things like human capital and research.
In 2013, however, reports indicated that there were 175000 independent cases of innovation projects at grassroots levels. Unfortunately, most of these instances were immediately disregarded as instances of jugaad. According to Rishikesha T Krishnan, a professor at IIM Bangalore, products made from jugaad do not count as innovation because they lack the ability to scale and do not fit with the aspirations of the mainstream Indian consumer. As he explains, it is difficult for individual grassroots efforts to achieve impact in a country with the size and diversity of India.
Solutions to bring jugaad to the world
There have been several efforts to legitimize jugaad.
In response to the nation's low rankings on global innovation boards, the Department of Science and Technology set up the National Innovation Foundation (NIF) last year. The goals of the fund are to provide support to the many grassroots innovations that emerge from India's informal sectors. The NIF helps file patents for these innovations and funds other initiatives that will help support the sector. It hopes to fix the two issues outlined by Professor Krishnan by providing scalability to grassroots innovations and redefining their market scope. According to the NIF's logic, mathematical reality considers the mainstream consumer to be the 1 billion people that exist in low income populations across India.
Most acts of jugaad happen because people can't afford better alternatives, lack access to applicable products and exist in a market that just doesn't understand their needs. Many entrepreneurs have begun to create jugaad-inspired products that are made specifically for those who need it the most.
Godrej's Chotu-Kool, for example, is a 45-liter plastic container that uses insulation to keep perishables like milk and vegetables cool for one or two days. It is affordable (just over US$50), runs on a rechargeable 12-volt battery, and combats issues of unreliable access to electricity. Although the target audience of the Chotu-Kool is India's low income population, it is not limited to that area. The Chotu-Kool is now sold in mainstream stores as an attractive, affordable alternative to otherwise expensive and electricity-reliant refrigerators.
Reach for the moon
At Innofest 2015, the spirit of innovation was thriving. "There is a mood change in the country and the city," explained the Anurag Kumar, director of the Indian Institute of Science (IISC), the campus that was hosting Innofest. "The kind of innovations that IISC students are capable of go beyond jugaad."
When I entered IISC, I was greeted with the sight of a lunar lander created by Team Indus. It was built to compete in Google's Lunar X Prize, a contest offering US$25 million to design and land a robot on the moon. Two students, flanked by their professor, described the process of building the Lunar Lander and explained its various components in full detail. The Lunar Lander hopes to achieve a "soft landing" on the moon to preserve natural soil composure. If they manage to land near the site of the Apollo 11, the first spaceflight to reach the moon, the two students explained that they would receive an additional prize.
Team Indus working on its Lunar Lander
After this first intimidating display of large-scale innovation, I expected the rest of the products showcased to be equally as heavily funded and nationally supported. Instead, I was met with a series of refreshingly approachable innovations.
Approachable innovations
The Srishti Institute of Art, Design and Technology showcased work from GRIDS (Grassroots Innovation Design Studio), an initiative that focuses on developing ideas sourced by the National Innovation Foundation. Their exhibit showcased working models of grassroots ideas, including a bicycle that cleaned roads and an electronic machine that sifts through rice. As coordinator Naga Nandini explained to me, the copyrights for the inventions belonged to the original jugaad-led innovators.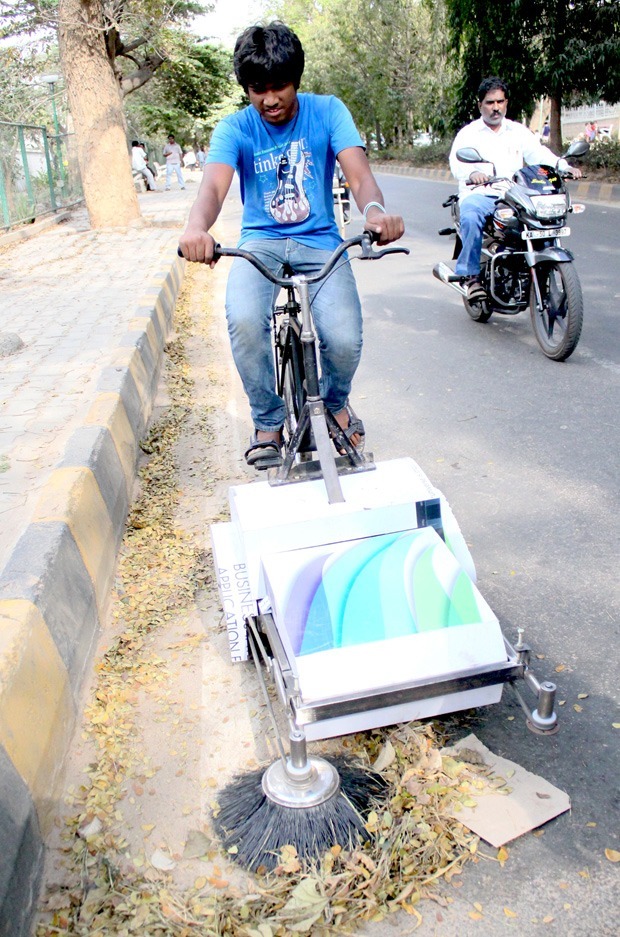 Bicycle road cleaner developed at GRIDS
Nihar Thakker, an eleven-year-old, showcased his work as a part of the Maker Flash, a portion of the exhibit where self-identified "makers" displayed their creations. Among his inventions were a soda can transformed into a speaker amplification system and a solar cellphone charger.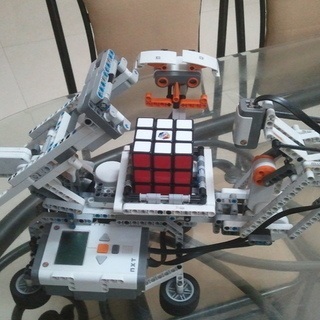 11-year-old Nihar Thakker designed the Mindstorm Rubiks Cube Solver, a robot that solves Rubiks Cube puzzles
Another exhibit in the Maker Flash was Rajamohan Jabbala's "Aurospaces," a device that provides geo-location based data about goods and analytics for local businesses. The device was inspired by Rajamohan's own difficulty in finding last minute stationery for his daughter despite having searched online and offline. The device is now installed in local restaurants and apartments.
Another interesting innovation, Infraeyes was conducting tests on individuals with Veinus, an affordable, portable device that uses infrared to help find veins that are not visible to the naked eye.
Kisan Raja, a company that provides technology solutions for agriculture, exhibited a mobile motor controller that allows farmers to monitor water consumption and conserve groundwater in their farm lands. This device is particularly helpful to help farmers with limited budgets get the most out of their crops.
Removing elitism from innovation
The patrons at the Innofest included everyone from Mohandas Pai, chairman of Manipal Education and ex-ceo of Infosys, to Nandan Nilekani, co-founder of Infosys and chairman of the UIDAI (Unique Identification Authority of India). As Jayant Sinha, minister of state for finance, navigated his way through the expo, entrepreneurs leapt to take selfies with him. My personal favorite was Nilay Kulkarni, a 14-year-old developer who spoke about bringing technological advances to India's famous Hindu pilgrimage festival, the Kumbh Mela.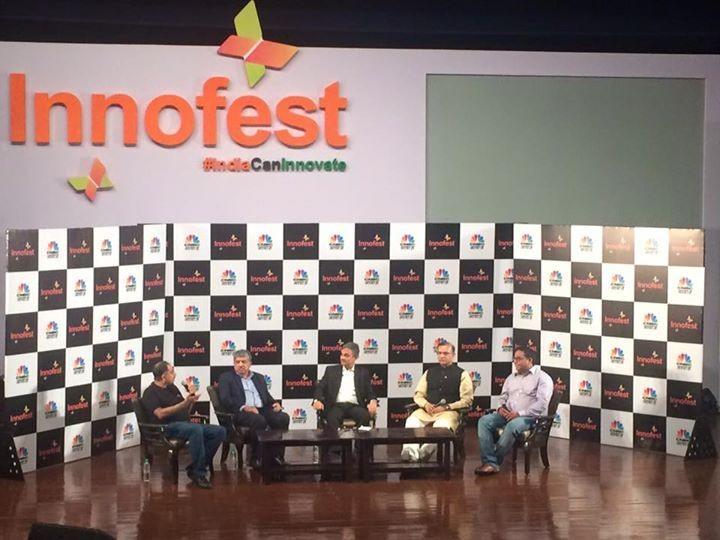 Jayant Sinha summarized the event with a bold statement on stage: "While innovations in America look after the needs of the top one billion people in the world, those in India can handle the challenges faced by the other six billion." His question to the audience was clear: Because India's spirit of jugaad serves to understand the simple issues faced by low-income, non-mainstream consumers around the world, why can't its creations be scaled and distributed to serve similar populations around the globe?
Aggregating jugaad to reach innovation
In essence, jugaad represents a can-do attitude that pushes boundaries, breaks down social barriers, and keeps things interesting. Innofest's showcase of grassroots entrepreneurs and works of creativity outside of mainstream norms left me with the unshakeable feeling that real support in the form of funding and business development needs to be channeled towards smaller initiatives. When brought together, these myriad small efforts can contribute to a larger trend of innovation.
This post How India plans to turn jugaad into large scale innovation appeared first on Tech in Asia.