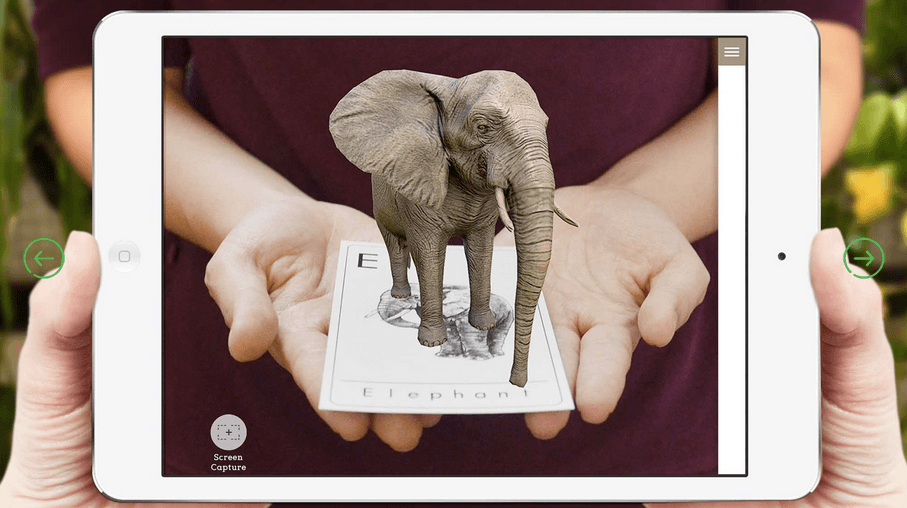 Creative technology startup Octagon made waves last month when it introduced a locally-manufactured virtual reality (VR) headset during Popcon, Indonesia's largest games and entertainment fair. It went for IDR 300,000 (US$21). All 200 pieces immediately sold out.
"The version we brought to Popcon is still a beta version," says Stella Setyiadi, Octagon's marketing manager. "Each one is hand made, we still consider it expensive. We will continue to improve it and get it to a price of about IDR 100,000 (US$7) a piece."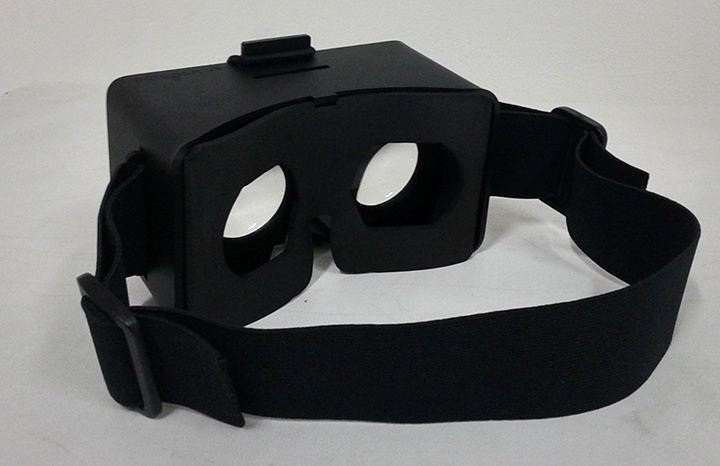 VR Genie, Octagon's low cost VR headset
Octagon's VR headset is comparable to Google's simple Cardboard model – but it's made out of durable material. You attach your mobile phone to the screen to experience virtual-reality like immersion. Dozens of variations of these types of headsets exist, with low cost ones typically at around US$20 to 30.
Traveling without moving
The startup offers its own VR content to go with the headset: a collection of 360 degree photography of landscapes and historical sites from around the world. So far, most content comes from the Octagon team itself, but it's open for anyone who wants to contribute.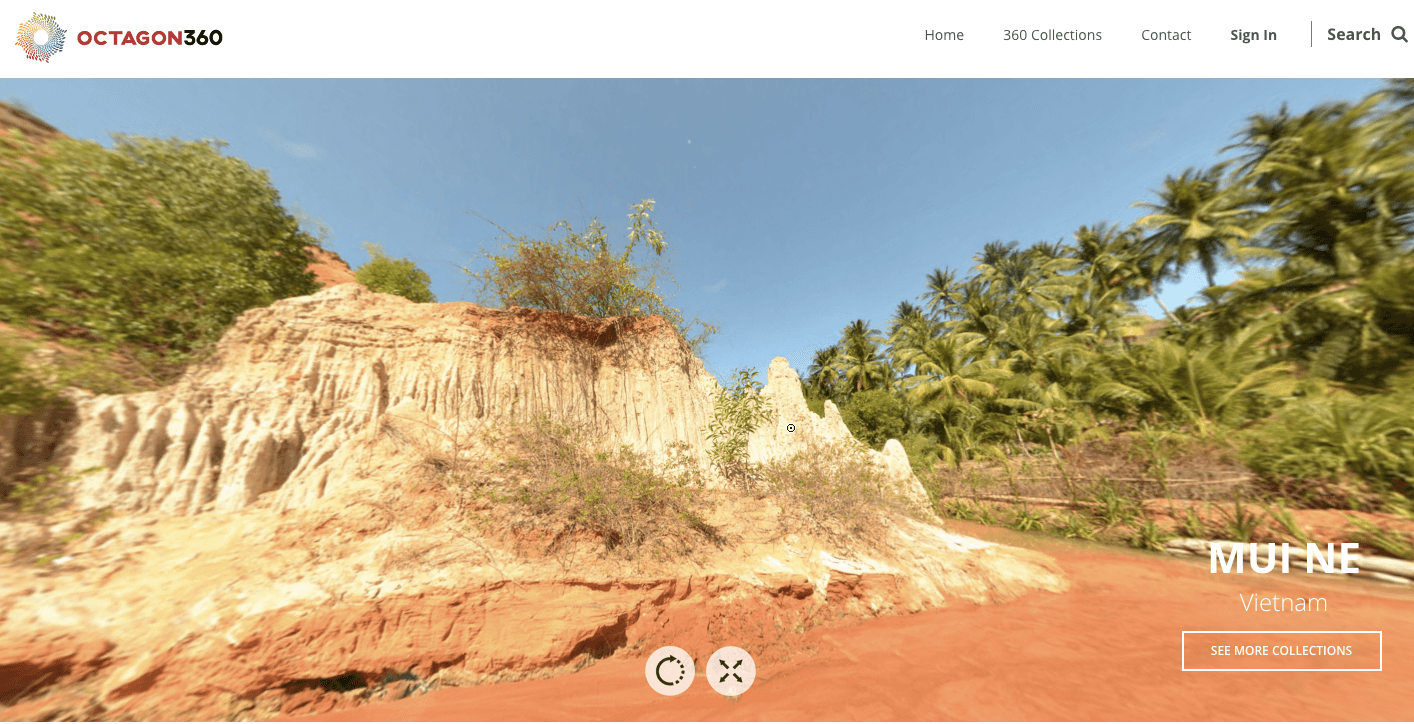 Octagon 360 contains hundreds of VR experiences based on 360 degree photography from sites around the globe
"As you can see, we really like to travel," Fitriani Rahmah laughs. She's the head of Octagon's VR department.
It's her job to bring Octagon's VR content to the next level in the upcoming months. For the team, 360 photography is just the start. Fitriani – or Fitri, as everyone calls her here – says they are targeting more interactive experiences next, where you can move around to different sites within a scene. It would be similar to walking around in Google Maps.
But the team's end game is to create original, story-driven content. They make me watch a VR experience created by another company, with a storyline based on the moon landing.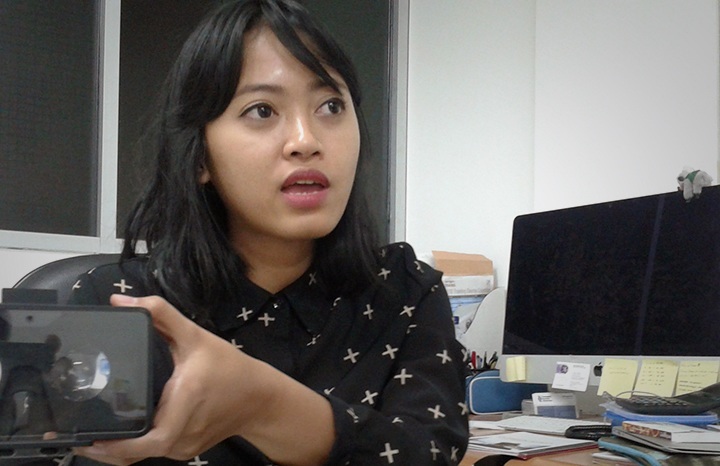 Fitri Rahma, head of Octagon's budding VR department
"It made me tear up the first time I saw it," says Fitri. "That's what we want to get to."
In one corner of the office, a guy is reverse-engineering an Oculus Rift.
Feeding the creative beast
While the VR department is still in its infancy, the company looks back on two years of experience with augmented reality (AR).
Octagon studio spun out as a creative upstart from its parent company Transport Systems Solutions (TSS) in 2013. TSS doesn't have anything to do with AR or VR. It's an engineering company that makes signaling systems for railways.
How then, did Octagon studio come about?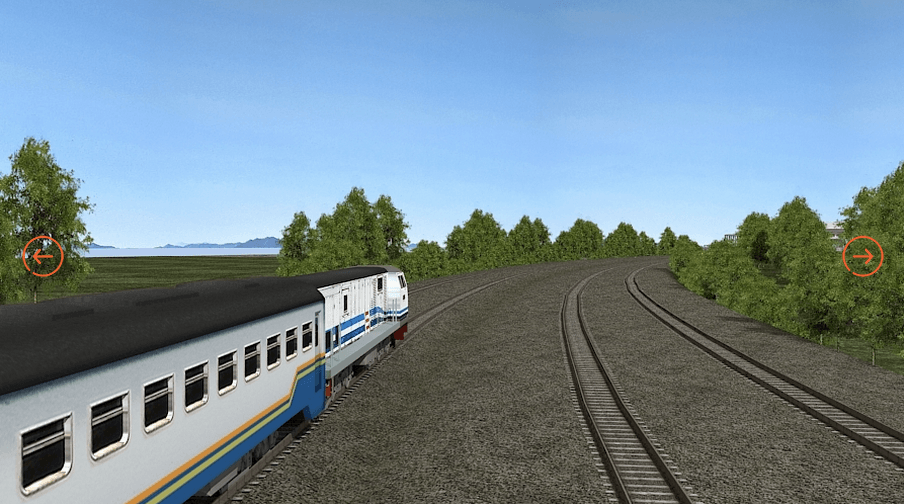 Creating 3D animations of trains for its parent company got Octagon started
The connective tissue between both companies is 3D modelling. TSS did some 3D work for its clients, and Michael Healy, one of TSS' co-founders, felt the creative beast waking inside him. He wanted to work on something more fun than railroads.
Initially a team of five within TSS, they agreed to try to apply what they knew about 3D to augmented reality. With little prior knowledge, the newly formed creative task force learned all they could about how to make it work.
Stella, the marketing mananger, was one of the early hires. She's now part of the creative troupe of 30 artists, designers, web and app developers, and copywriters that make up Octagon.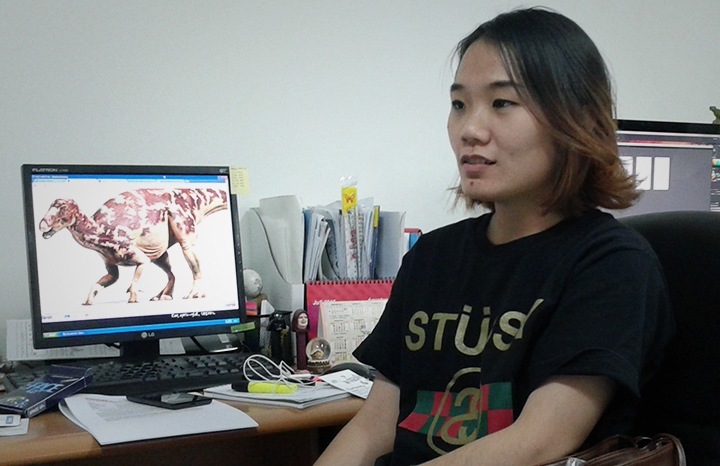 Stella Setyiadi, Octagon's marketing manager and my host for the day
The company doesn't recruit AR and VR experts, because they are few and far between in Bandung, the startup's hometown in Indonesia.
"We post jobs online, and we look at portfolios, it's as simple as that," Stella says. "We are a team and we learn together."
Octagon's biggest AR hit so far is a set of animal themed alphabet flash cards. Each letter of the alphabet is associated with an animal. You can point your camera at the card, and the animal will pop up in 3D form.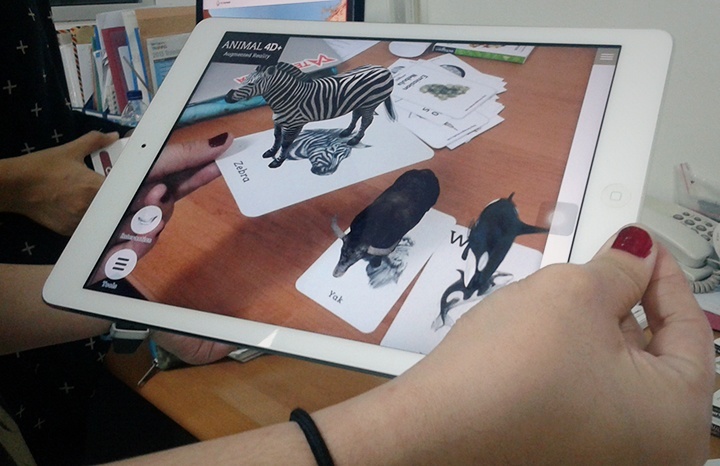 Animal 4D+ is Octagon's biggest AR hit so far. The cards can be ordered online, the app is free and works on iOS and Android devices
It's a pretty amazing experience. You can take a selfie with the animal, or flip it around to inspect from the bottom. The idea is not entirely unique, as other VR companies are also working with flash cards. Octagon wants to differentiate itself through its painstakingly detailed artwork, and by introducing more interactivity than the competition.
"We have created food cards, which you can place in front of the animals, to make them react," explains Stella.
I put a card with a bundle of grass on a table between the cow and the horse card. Both trot over to have a nibble.
Stella claims they have sold about 50,000 animal card sets so far. The team is already working on new sets. One is based on original cartoon characters, another explores the solar system and space crafts, another dinosaurs.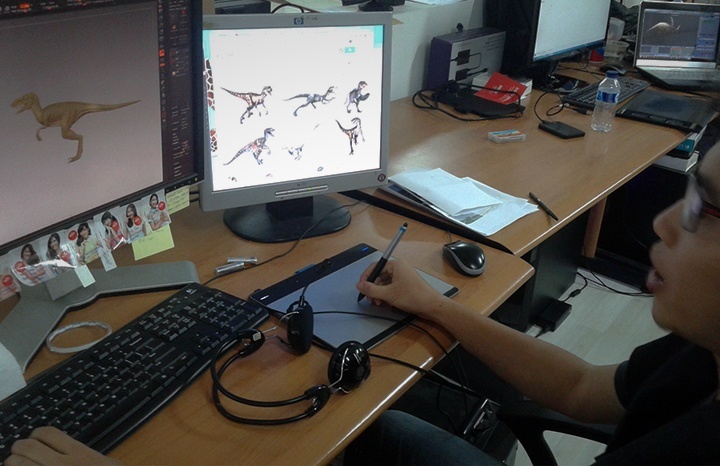 Emanuel Rendi is Octagon's 3D sculptor. His detailed digital paintings are transformed into 3D models
Augmented 3D
This is how the process works: first, the team finalizes the concept. Then, an artist creates detailed illustrations. These are transformed into 3D models by a 3D sculpting artist. The process is much like painting in an image editor, except that this software transforms the digital panting into a detailed 3D-model. This model then gets handed over to the animator, who adds movement and sound. Later, everything comes together in a corresponding AR app. Everything, including the packaging design and copywriting, is taken care of in-house.
It takes the 3D team roughly two weeks to complete a model.
While most of the team is working on the new AR card sets, the app developers are teaching themselves how to augment 3D objects instead of 2D printed images.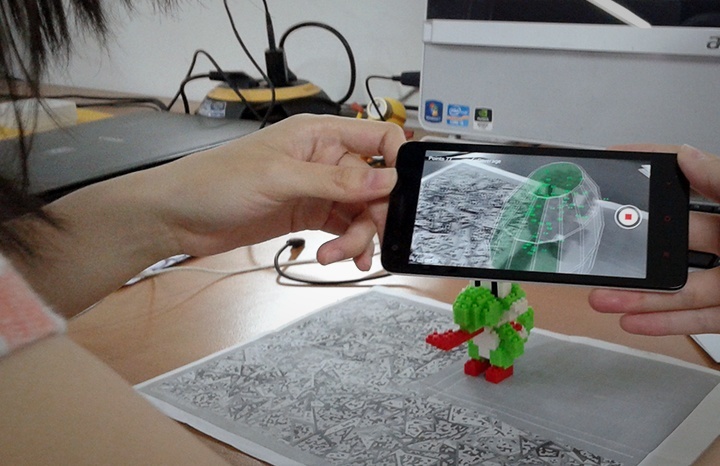 Angie Teresia, one of the android developers, tests an app that can scan a 3D object through her phone's camera
Once they've nailed this, Octagon wants to enter into a new field of practical AR application. "We are learning how to apply AR so that factory workers can use it to get help when they need to repair a machine," Stella says.
The task requires another technique Octagon is learning to master: how to share an augmented object in real time?
"We want technicians to be able to dial up an expert and share an augmented model with them. They can zoom in on parts of the machine that are failing, and the expert can show them how to handle it," Stella explains.
No sleep till San Diego
Octagon has commercial clients for its AR products, in Indonesia and abroad. The application that impressed me most was for an Indonesian property developer. A marketing brochure with floor plans of different apartments and family houses comes with a corresponding app. You can point the camera of your phone or tablet at the image, and a 3D model of the apartment will pop up. You can zoom in on details in the interior, switch to another level, or rotate to get a different angle.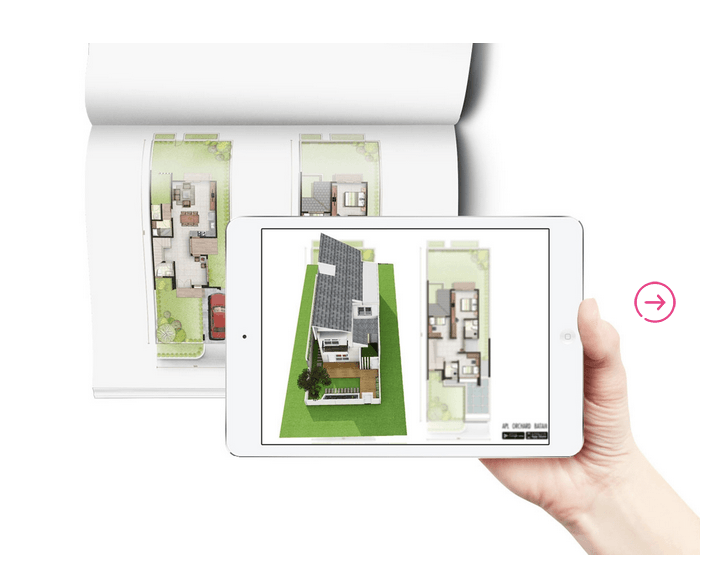 Scanning a brochure, a 3D model of the property can be inspected from various angles and zoom stages
Octagon is also testing international waters. It has twice participated in the Augmented World Expo held in Silicon Valley, and once at the Wearable Tech Expo. Each time, it came out with nominations for its achievements, just short of a big win. But their participation put them in the same league as big industry names such as Atheer, Daqri and APX.
"We want to know, what position do we have in this world? Are we advanced, very low, or just intermediary? We came out thinking: Hey we're not bad at all."
For 2016, the team set its eyes on the infamous San Diego Comic Con. "If we go there, we know we have to show something really, really cool" Stella says. "Otherwise, people will be like 'who are you'?"
This post I spent a day at Octagon studio, Indonesia's hottest AR startup. Here's what I saw appeared first on Tech in Asia.