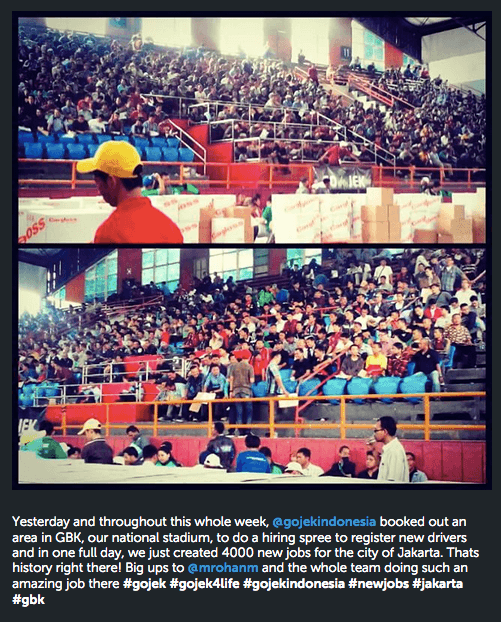 Go-Jek, an Indonesian on-demand motorcycle service, is in the process of creating 16,000 new jobs in four days.
The startup booked a section of Jakarta's Gelora Bung Karno sports stadium for a mass recruitment event, held from August 11 to 14, as part of a larger job fair. However, interest for Go-Jek's sign up booths overshadowed others, local media reported.
User @djkikeymoran posted these images on Instagram from the event
Go-Jek was founded in 2011 and operated at a relatively small scale for years. The service started to take off when it rolled out its mobile app in January of this year.
The startup has faced some speed bumps in the form of competition from rival startup GrabBike, which is part of Malaysian on-demand transportation company GrabTaxi. It entered Jakarta in June.
On-demand motorcycle taxis are also met with resistance from some traditional drivers, who are finding it hard to adapt to the modernization of their business.
An army of personal assistants
But Go-Jek is clearly on course for massive expansion. It's rumored to have just secured a large round of funding; however, the startup has yet to confirm this news.
With 16,000 new recruits, the number of Go-Jek drivers will swell up to almost 20,000 in the next few days. This makes its fleet bigger than that of Blue Bird, Indonesia's largest automobile taxi company, which is still working toward the target of getting to 20,000 drivers in the greater Jakarta area by the end of 2015. The startup is becoming a major provider of job opportunities in the capital. While Go-Jek doesn't formally employ its drivers, it claims to offer benefits like basic health insurance.
Beyond shuttling people from A to B on their motorcycles, Go-Jek drivers can also take up additional tasks, like food deliveries and personal shopping. Go-Jek is, in essence, releasing an army of personal assistants onto Jakarta's streets
This post Indonesian motorcycle taxi startup Go-Jek is hiring 16,000 new drivers at a sports stadium appeared first on Tech in Asia.