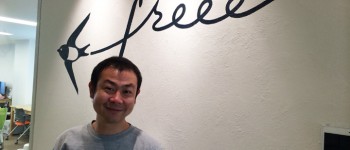 Daisuke Sasaki, CEO and co-founder at Freee.
Japan's fintech battleground won't be cooling down anytime soon. Freee, an accounting software as a service startup led by ex-Googler Daisuke Sasaki, just confirmed a windfall of JPY 3.5 billion (US$28.7 million) in a series C round. Recruit Holdings, Japan Co-Invest, and a previous investor, Silicon Valley-based DCM, all participated.
Freee is gaining steam in Japan as software slowly eats paper-based administrative tasks. Its basic accounting service attracted 380,000 companies since launching in July 2012. That's a massive jump from September 2014 when it was servicing 120,000 firms. In the interim, Freee also nabbed the lead among cloud accounting software, with over 40 percent of the market share.
Now the company is positioning itself as a one-stop-shop for administrative needs. It already added services for handling salaries, tax filings, and company establishment. In October it will expand its offerings to encompass administrative work related to "My Number," Japan's newly approved national system for tracking social security and taxes. Also on the horizon is a digital receipt tracking tool, which will coincide with a major change in Japanese accounting law. Until now, only paper receipts were considered valid by tax authorities. Freee is hoping that the national exuberance over this long-awaited reform will result in a legion of fans.
With this funding, Freee elevates to some rarified air. Since 2014, only three other Japanese startups have broken US$25 million in a single funding round. It joins news aggregator SmartNews (US$36 million), printing solutions firm Raksul (US$34 million), and app monetizer/online payments/robotics startup Metaps (US$36 million).
Though Sasaki is far from a domestic-minded entrepreneur, don't count on seeing Freee overseas anytime soon. There is still plenty of room to run in Japan as his company tries to reach its goal of 1 million SMB clients. The firm is not running alone, however. MoneyForward, another accounting SaaS startup also founded in 2012, is looking to slide the 1.8 million people using its personal finance app into its new SMB-focused software solutions.
If MoneyForward can replicate its success in personal finance on the SMB front this race could get interesting. For now, Freee has the war chest and the lead.
P.S. Shameless plug alert! Daisuke will be speaking at Tech in Asia Tokyo 2015 this September 8 and 9. Get your tickets here. Hope to see you there!
This post Japanese fintech startup grabs $28.7M series C to solve accounting woes appeared first on Tech in Asia.