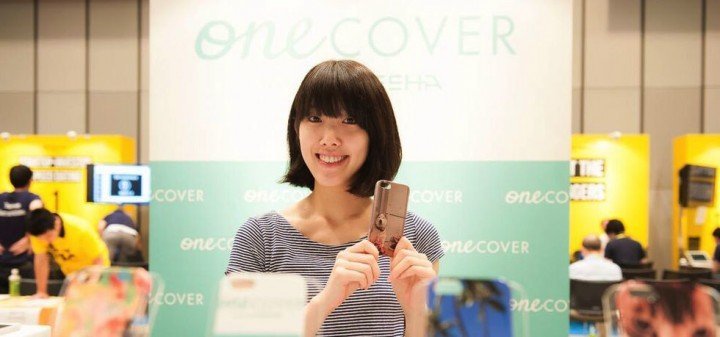 As we inch closer to the second edition of Tech in Asia Tokyo, we've pretty much covered what you will see at our conference on September 8 and 9. We assure you: the two days will be well-spent, with so much going on.
Where should you start? We recommend a tour around Bootstrap Alley, where the best startups in Asia will exhibit their products and services. There will be 160 startup booths over two days – a record number for our Tokyo conference. A bunch of them are international ones, which is rare at a startup event in Japan, so this is something you won't want to miss out on.
Here's a list of 10 hand-picked ones (it was no easy task given the calibre of the participating startups) that you should definitely check out.
If the first three looks familiar to you, that's because we covered them in our second weekly roundup.
1. Olympians Engineering & Technology
An Internet of Things (IoT) future might be on the cards for Malaysia sooner than expected, with startup Olympians Engineering & Technology on a mission to connect all of the country's machines.
But while Malaysia has plans to roll out an IoT blueprint nationwide, what they find severely lacking is an inexpensive and efficient connection to pull it all together. Olympians Engineering & Technology might just offer the solution to this problem, as the startup claims to to provide low power, long range IoT cellular connectivity at low cost – think 100 times cheaper than the majority of telecommunications providers.
2. Villacarte
If you're frustrated because you're unable to find reasonably priced villas for vacations, you're not alone. This is a common problem that Thailand-based startup Villacarte wants to address.
The startup is building a community of vacation villa owners primarily in under-penetrated and emerging markets around the world, where the global presence of vacation villa rental platforms, if any, are limited.
By providing a marketplace for vacation rentals with add-on options such as car rentals and guided tours, they aim to create the ideal holiday for their customers – while ensuring that property owners get the best bang for their buck.
3. Hakuto
Here's a startup that's out of this world. Quite literally, the Japan-based startup backed by iSpace Technologies is looking to the moon for mineral development.
Takeshi Hakamada, founder and CEO of iSpace, has already led Hakuto to plant its country's flag in new ground – they are the only Japanese team out of sixteen global teams in a race to develop robotic rovers for exploration of the moon in Google's Lunar XPrize Challenge.
Hakamada is optimistic that the results will create new business opportunities in resource mapping and development as well as robotics. The Hakuto team is gunning for the grand prize of US$20 million, which means they have to be the first team to land a robot on the moon, move 500 meters, and stream HD mooncasts – all with 10 percent or less government funding.
4. DAWGS Inc
Hosting a party and want to make it memorable? DAWGS Inc will probably be your best bet. The startup delivers onsite printing capabilities for venues, festivals, shows, special events, weddings, reception parties, and more through social networking services such as Twitter, Instagram, Facebook, Foursquare, WEAR, LINE, and its own SNSHOT apps.
Aiming to help clients connect with their audience in a digitized and mobilized world, DAWGS forges innovative social media PR solutions by fusing insights, creativity, and technology to create multi-channel connections between hosts and customers.
What's interesting about their product is its ability to pick up Estimote Beacons – small wireless sensors attached to any location or object that allow smartphone apps to pick up data. Using this data, DAWGS' generates coupons and codes, which users could use to purchase memorabilia with their images on it.
5. Dot Incorporation
A startup with a meaningful cause, Korea-based Dot Incorporation's product is a Braille smartwatch that aims to serve as a low-cost education and communication tool for the 285 million people around the globe who suffer from severe visual impairment.
It is the first wearable device to provide Braille function and is based on haptic technology, which provides feedback or information in real-time through touch. This means that the visually impaired can now access various text data such as messages, tweets, and books anywhere, anytime, paving a path to literacy for 95 percent of new Braille learners.
Dot was previously covered by one of our Tech in Asia editors.
6. Ambi Labs Limited
Ambi Labs, a Hong Kong based startup, which aims to change the way Asian consumers interact with household appliances, caught our attention before with Ambi Climate, an energy-saving air conditioning device that provides users with a tailored climate.
Their product is the only one with a fully developed comfort based system. By factoring in humidity, temperature, and user comfort, it is able to automatically keep air conditioning at the right levels. Ambi Climate effectively uses machine learning to find out its users' comfort profile.
This promising startup took the top prize at the recent RISE's Pitch competition.
7. CitizenLab
In this digital age, citizens are expecting increased transparency and participation in policies and issues affecting their countries. Yet, governments are facing budget limitations to build in-house technological solutions. That's where Belgium-based CitizenLab comes into play.
A civic engagement platform for cities, CitizenLab is simple, accessible, and anonymous to use. Submitting, upvoting, and commenting on an idea are only two clicks away; interactions can be done 24/7 on every device; and focuses on content rather than the identity of the user.
CitizenLab empowers citizens and governments to co-create their cities by fostering communication between them. It allowing citizens to submit, discuss, and vote for or against ideas, and local governments to respond to these ideas and consult the public on challenging issues.
8. Tap Heaven
Tap Heaven, a fully automated mobile Real-Time Bidding ad buying platform, aims to revolutionize the way businesses acquire users through ads.
It incorporates advertisers' marketing rules, KPIs, goals, and business intelligence directly into its Sonar technology and sophisticated machine learning algorithms in real-time, automating the optimization of campaigns every second of every day and maximizing the return on investment of every ad purchased.
9. Cyclops MedTech
Cyclops MedTech is a Bangalore-based startup working extensively in the areas of eye tracking and vestibular science. Its vision is to create highly innovative and cost-effective medical technology and devices, which can accurately diagnose conditions and thereby aid in a faster and better cure.
One of its devices, Holter Eye, detects vertigo and balance disorders as they occur, rather than having them diagnosed in a controlled clinical environment. This stems from the understanding that balance disorders are firmly related to disorders of the vestibular system and each vestibular disorder has a corresponding eye movement. Hence, study and analysis of these movements are important to understand the root problem.
During the occurrence of a vertigo or balance disorder, an eye tracking algorithm present in Holter Eye will generate data, which can be assessed by a consultant on any device and thus ensuring a more accurate diagnosis and decisive course of action.
10. D Free
D Free is a wearable device created by Tokyo and California-based venture Triple W to tackle the loss of bowel control (yes, you did not read that wrong), telling users when they have to go to the bathroom.
The product acts like a mini ultrasound and can be worn inside a user's belt or in a special underwear. It sends ultrasonic pulses into the abdomen and users can choose the frequency to detect waste buildup in the bladder and intestines. D Free then shares this data with a user's (or caregiver's) smartphone, up to 20 meters away, via Bluetooth LE.
D Free was previously covered by us, but what better way to find out more about them than meeting them in person?
##
Our exhibiting startups at Bootstrap Alley are all prepared and eager to meet you, so swing by on September 8 and 9 and hear their interesting stories! Haven't bought your tickets yet? You can still do so here.
Here's a list of 40 other startups exhibiting in Tokyo. Want to know who the rest of the startups are? Head down and meet them in person!
Wisper
Tadaku LLC
Wegilant Net Solutions
Spacosa Corporation
Kabob Technology
Aroma Bit
LetsPark
Qurate Inc.
GameWare Pte Ltd
Kadinche
Adcoin
IzumoBASE
Ominent
Coban
Oneteam
Toreta
Roomap
UseData
meXBT
Asistee
Gpayroll
My Aone Learning
Akerun
Bazaar Entertainment
Goodpatch
Fictbox
J-mag
Glad Cube
Voxypad
Agringo
xd-lab
Bonsailab
Yaraku
Factelier
Repro
Nain
Paraft
LP Research
Crevo
Sekai-lab
This post Meet the hottest startups coming to Tokyo appeared first on Tech in Asia.