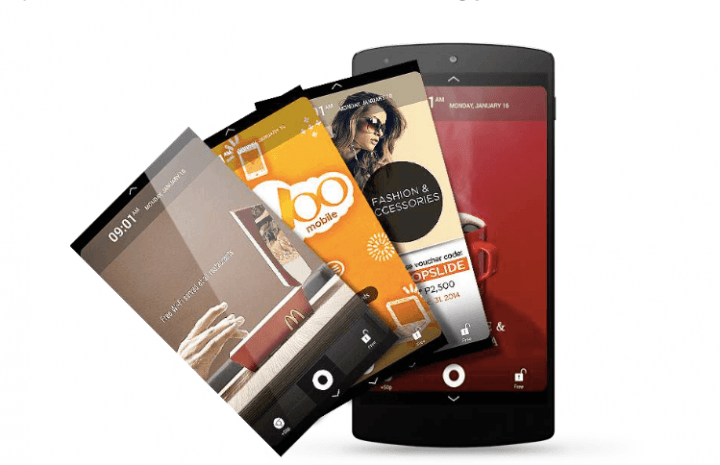 Fresh consumer data shows demand for smartphones in Southeast Asia reached a new peak during the first half of this year. Currently, the three biggest smartphone markets in the region are Indonesia, Thailand, and Vietnam, where sales volume was registered at 14.9 million, 6.6 million, and 6 million units respectively. The data also points to Vietnam, Thailand, and the Philippines as the three fastest growing markets in the region.
A couple months ago, I came across an interesting product when visiting CyberAgent Ventures' new office and co-working space in Jakarta's "Slipicon Valley". The name was PopSlide, and its business model may work well here in Indonesia.
With more smartphones across the archipelago, and Chinese mobile firms scrambling to get local partners before the "made in Indonesia" rule takes effect, users inevitably need something more: affordable mobile internet. That's where PopSlide comes in.
PopSlide is a lock screen reward-based advertising product from Singapore-based tech firm Yoyo. Users can gather points by swiping their lock screens to look at mobile ads. When ready, they can redeem points for free mobile credit. At first glance, this idea seems like something small, but it's actually a huge opportunity in emerging markets like Indonesia, where the majority of mobile users are price sensitive, and don't top up their phone credit often. PopSlide is looking to dole out "free internet to the next billion mobile phone users in emerging countries." Outside of Singapore, the company also operates in the Philippines, Vietnam, and Indonesia.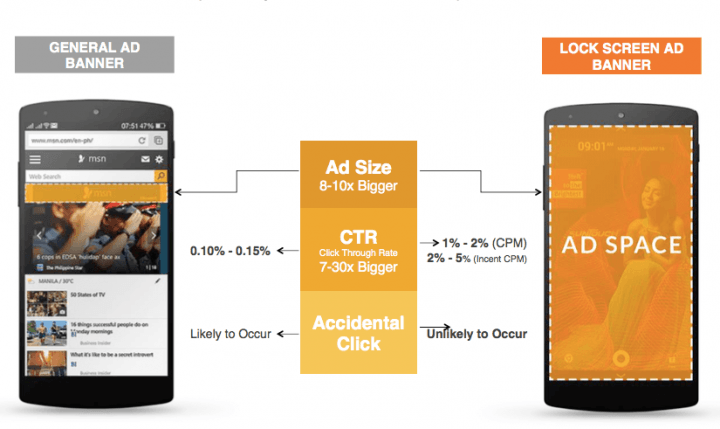 See: Singapore's Yoyo raises $1.3M to make 'Candy' Southeast Asia's No. 1 reward platform
Quiet but deadly for traditional ad mediums
In Indonesia, PopSlide claims more than 300,000 users, 60 million monthly views, and 2 million lock screen views per day on average. If what the startup says is true, these numbers are not to be scoffed at from an advertiser's perspective. According to the firm, each user views the lock screen 70 to 80 times per day, which works wonders for getting them to remember your brand and create a strong impression.
PopSlide says its ad impressions are higher in value than traditional mobile advertisements. They are bigger and occupy the entire screen instead of just acting as an annoyance during other mobile actions.
So how does it work? Users swipe to view ads or unlock their mobile screen. Points accumulate from these actions. Depending on the volume of ads they look at, users can choose different products and denominations of mobile top-up they want. Then, they input their phone number, and PopSlide handles the rest of the transaction. It's pretty cool because it saves users the hassle of having to walk to the ATM or log into their online banking account to top up mobile credit the traditional way. PopSlide can also target users based on their physical locations, which in theory, should optimize results for the advertisers.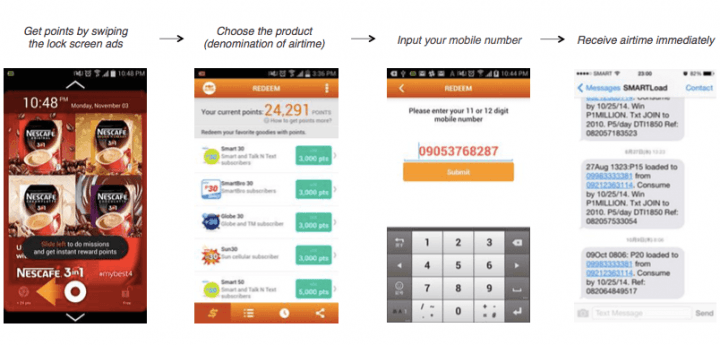 Earlier this month, Yoyo sales director Jim Morris Sarmiento told Tech in Asia his company is taking a strong interest in Indonesia's Android users. "The trend of prepaid users is higher than postpaid. This is similar to the conditions in the Philippines, so the team felt Indonesia was a market suitable for PopSlide," Sarmiento explains.
He's particularly encouraged by the smartphone adoption rate in Indonesia and reckons advertisers will soon have no choice but to take mobile advertising seriously.
Sarmiento says the firm's user numbers have reached more than 300,000 registered users in each country, which means it's well on its way to 1 million users in Southeast Asia. On a daily basis, Indonesia already accounts for 10 to 40 percent of Pop Slide's active users. The three cities with the highest users in Indonesia are Jakarta, Surabaya, and Medan. He adds:
"In developing countries, including Indonesia and the Philippines, smartphone users particularly liked free gifts in any case. Mainly pulsa [phone credit], hence PopSlide will just focus on one business offering for the market at this point."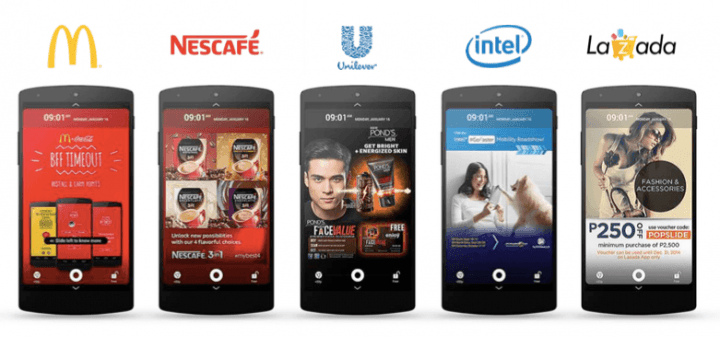 See: In Indonesia, you can now purchase Android apps on Google Play with carrier billingPopSlide has a three-pronged business model. It makes money from advertisers via cost per impression (CPM), cost per click (CPC), and cost per install (CPI). PopSlide's list of international clients is also a factor that should encourage the local mobile ad industry. Some of its most notable partners include McDonald's, Nescafe, Unilever, Intel, and Lazada. Locally, PopSlide will compete with other rewards-based mobile adtech startups like Excite Point, Poinweb, 8Share, and Haratishare, but also a litle more indirectly with big boys like Adways Indonesia.
eMarketer says advertisers will spend US$11.39 billion on ads in Indonesia this year, up a staggering 16 percent from last year. Growth will continue steadily through at least 2019, when the total media ad market in the country will reach US$19.58 billion. By 2016, more than one in 10 ad dollars in Indonesia will be spent on digital channels — including mobile — and in 2019, the share will exceed one in four.
PopSlide has an interesting value proposition. Regardless, the product's fate in Indonesia will largely be determined by readiness of local firms to put their money where their mouths are, and commit to mobile advertising.
PopSlide was also covered in Indonesian by Elfa Putri. See the article here.
This post Mobile adtech startup PopSlide makes it rain free phone top-ups appeared first on Tech in Asia.