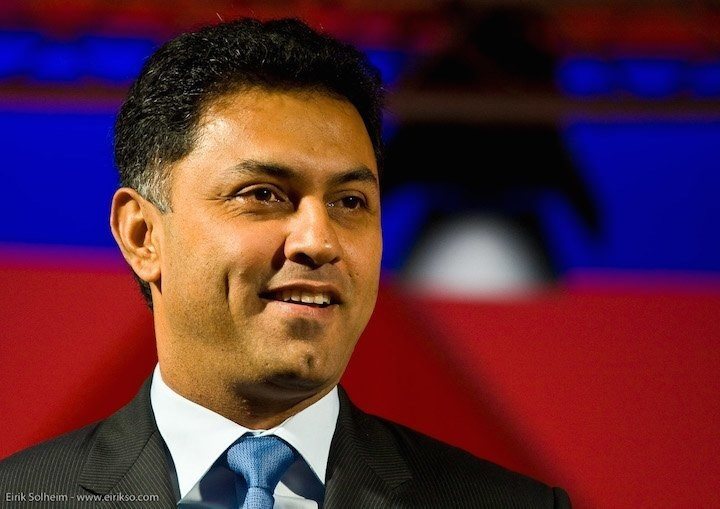 Companies often reward their staff with shares for good performance. But how often do you hear of a star employee pumping US$482 million of personal savings into the company where he works? That's what Nikesh Arora, president and COO of SoftBank Group Corp. (SBG), just did.
Arora is purchasing SBG shares worth JPY 60 billion (over US$482 million), SoftBank announced today. This former Google executive is the heir apparent to SoftBank chairman and CEO Masayoshi Son.
Arora says in a statement on the investment:
My past year with the SoftBank Group has been very rewarding. As a measure of my commitment, I have decided to take a personal bet on the SoftBank Group and ensure an alignment of vision, with our founder and chairman & CEO Masayoshi Son. This is a large transaction for me, and involves taking an enormous risk in my life once again. However, I am extremely confident about the future of the SoftBank Group and the long-term objectives that we have set out.
Since leaving Google to join SoftBank in July last year, Arora has led a flurry of big ticket investments in India, including US$627 million in ecommerce site Snapdeal, US$210 million in taxi app Ola, and US$90 million in real estate portal Housing. SoftBank also invested a cool billion dollars in South Korean ecommerce site Coupang.
The IIT-BHU graduate from India is reported to have an annual pay packet of US$135 million.
SoftBank chairman Masayoshi Son says in a statement:
I am delighted that Nikesh has decided to double down on his partnership with me at the SoftBank Group. As I have said, his vision and mine are aligned and we plan to work together for many years to make the SoftBank Group a sustainable success for decades to come. I expect him to succeed me at the appropriate time. The last year of working together could not have gone better and it has surpassed every expectation that I had. Nikesh is a great business leader, a wonderful compliment to me, and he's a good person at heart.
The transaction will be conducted as a program trade over the next six months.
This post Nikesh Arora puts $482 million into SoftBank – from his own pocket appeared first on Tech in Asia.