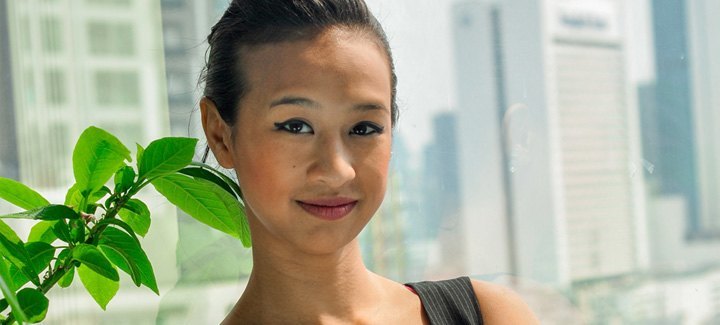 There's little doubt left that women hold the key to ecommerce in Southeast Asia. Women are responsible for the majority of purchasing decisions in the region, they shop for themselves as well as for family and friends.
That's exactly the reason why Ardent Capital introduced Moxy, its new everything-store for women in Indonesia in June.
Moxy will join the chorus of many voices trying to catch Indonesian female online shoppers' attention. Rocket Internet's Lazada and Zalora are established brands in the archipelago. Popular local fashion estores such as Berrybenka have a large selection of women's fashion, while Saqina and HijUp specialize in Muslim fashion. Dedicated online shops fulfill almost every other need, such as Blina.com for baby products.
But Moxy plans to stand out by presenting itself as a shop exclusive to women, covering the whole range of products that become relevant in various stages of a woman's life, and by developing a strong brand personality. This begins to make sense once we look into the company's past.
The former founder is now CMO
Moxy was founded in 2013 by Shannon Kalayanamitr as a Bangkok-based women's fashion and lifestyle portal. At the beginning of this year, she sold her company to WhatsNew, a Thai ecommerce conglomerte backed by Ardent Capital. WhatsNew had pet, baby, health, and cosmetics estores in its portfolio, and decided to bake all of them into one big cake along with Moxy's women's fashion and lifestyle products.
But WhatsNew found Moxy's brand so compelling that it decided to dump its own name and only use Moxy from now on. The new beefed-up Moxy was first launched in Indonesia, but the same fusion will occur with Moxy and WhatsNew in Thailand soon.
"Moxie means to have confidence, determination, passion," explains Kalayanamitr. "It's a word from the 1920's. Warren Beatty used to say things like: 'ah, that girl's got moxie!' We changed the spelling to make it look cooler."
Kalayanamitr became Group CMO after the acquisition. As the original founder and the only woman in the company's current top management, Kalayanamitr embodies Moxy like no one else on the team. Her background and character play a key role in setting the company's direction.
Ditching a banking career to help in a crisis
She was born in the US – Silicon Valley, to be exact – where her father worked as an engineer. When she was 12, her parents decided to move back to Thailand, following the Thai government's "reverse-brain drain initiative," as Kalayanamitr puts it. The multicultural upbringing gives her a global perspective, but also local roots.
Kalayanamitr started her career at global consulting firm PwC, then became an associate at Lehman Brothers. A turning point in her career came in In 2004, when a Tsunami destroyed Thailand's coastlines, killing thousands. She threw the opportunity at Lehman overboard to help coordinate relief efforts. Instead of going on Christmas holidays with a group of friends, they embarked on a volunteering mission that lasted several months.
After the worst was over, she took on a job to learn the ins and outs of marketing by working for one of Thailand's most recognized brands: Singha beer. When she realized there wasn't much room to grow as an employee in a family-owned company, she began looking for new opportunities.
Pioneering Lazada
This came around in the form of an offer from two of her former bosses at Lehman Brothers, Paul Van Eyl and Unnop Senasuttipan, whom she stayed good friends with. They were in talks with the Rocket Internet Group, and got Kalayanamitr on board to pioneer Rocket Internet's Lazada ecommerce platform in Thailand.
This was Kalayanamitr's first exposure to tech startups, and at first, she soaked it all up. But soon, her vision for how to lead ecommerce in Thailand to success began to diverge from the German company's blueprint.
"For example, they insisted on spending almost 100 percent of the marketing budget online," she says. "But here in Asia, that doesn't work. You can't only be online. If your people are in the boonies you've got to do something in that community."
She left Rocket, taking Van Eyl and Senasuttipan with her, and the three ended up becoming co-ounders at Moxy.
Now leading her own ecommerce business, Kalayanamitr put her marketing experience to the test. This included a range of offline, community-based activities, such as meetups and other events for women, being present at festivals, and doing pop-up booths in malls and parking lots.
On the other end of the spectrum, she tapped into her network of influential friends to get Moxy off the ground. Having enjoyed a fairly privileged upbringing, she attended international schools, where many of her friends ended up being actresses or involved with showbusiness. Leveraging celebrities to market products sold on the platform became another key component of Moxy's appeal.
Ardent's and WhatsNew's decision to take over Moxy meant buying into that strategy, which is why they chose to let Moxy's brand take the lead.
Moxy in Indonesia
The challenge for Kalayanamitr will now be to make that same approach work in Indonesia. The site has localized its design and product portfolio to match the Indonesian market. For example, it has its own category of Muslim fashion.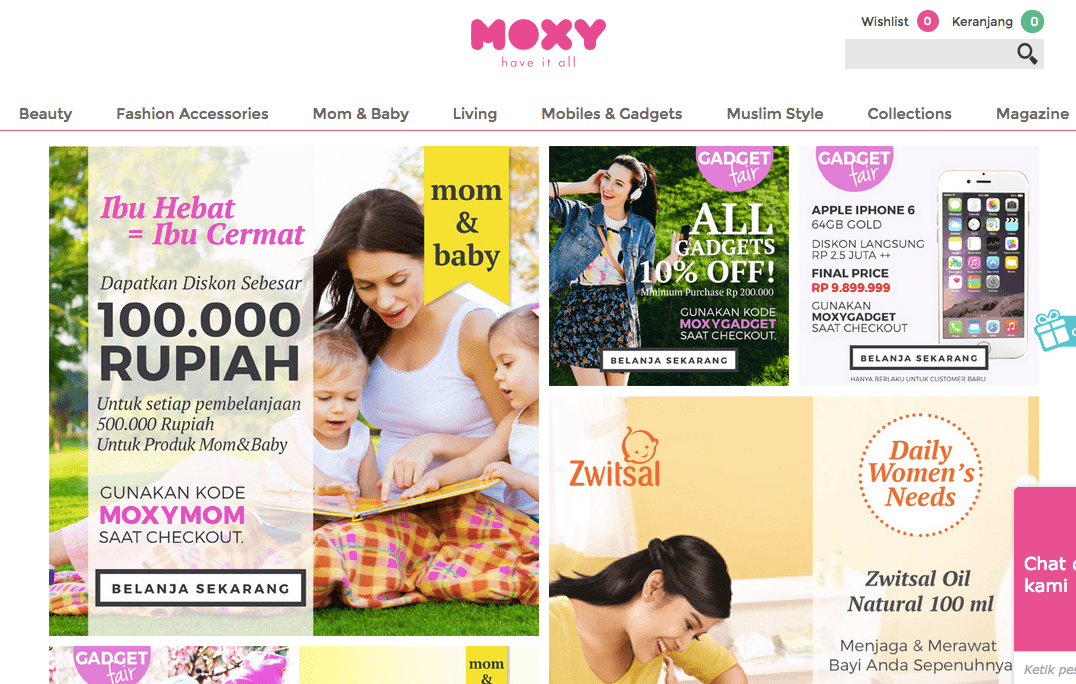 It's only been a few weeks since the site launched in Indonesia, so it's early to say much of substance about its performance. According to Kalayanamitr, the growth trajectory is already steeper than when it started in Thailand. She also points out an unusually high percentage of mobile conversions – 70 percent of buyers currently access Moxy via mobile phones.
Despite the broad range, the number of products Moxy offers is still comparatively small. It counts 14,000 SKU in total, with 7,000 of those being sold in Indonesia and 7,000 in Thailand, though the figure is growing as categories expand and new ones are added. Still, compared for example to Blina, which boasts 20,000 SKUs in the baby products category alone, Moxy has a long way to go.
An interesting potential partner for Moxy in the archipelago could lie in Female Daily, a women's product review platform with a strong community base.
Coincidentally, Female Daily has secured funds from Sinar Mas Digital Ventures (SMDV), which is also an investor in Ardent Capital, which backed WhatsNew. Moxy Indonesia's headquarters are in a building owned by SMDV. I wouldn't be surprised if we see synergies arising from the two platforms in the future.
This post She left Lehman and Lazada to build Southeast Asia's next big ecommerce portal for women appeared first on Tech in Asia.