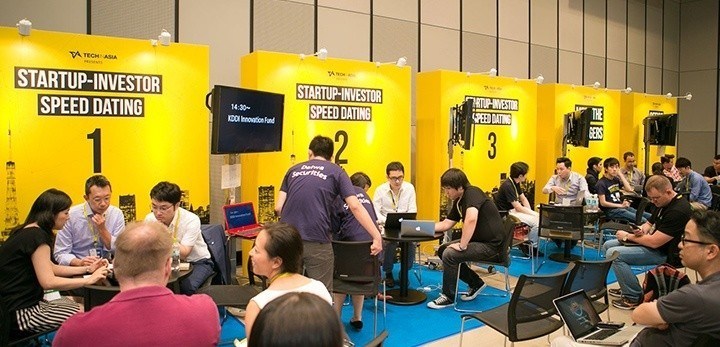 With news of yet another successful startup breaking out in Asia almost every other week, the startup scene is definitely heating up in this region. While it spells great news for the tech ecosystem, the saturation of the landscape means that brilliant startups, without the right network and opportunity, are easily overlooked.
Enter Tech in Asia Tokyo 2015: the ideal place for you to meet with investors in between fireside chats and drinks at Night Crawl.
And it gets easier with the Startup-Investor Speed Dating session.
With 45 confirmed investors onboard currently, and only five minutes allocated to each, it's important that you get the most out of your precious time.
We've compiled a few quick pointers to help you best prepare for what could be a very lucrative session if you play it right:
Do your homework
With many must-attend sessions and amazing stage content, you will find your time at the conference a scarce resource. Make sure you're well prepped way beforehand, and target investors who would be most receptive to your ideas. For a start, their past investments and targeted geographical locations might be a good place to look at.
Distil
It's tempting to ramble on in a bid to display how well thought out your idea is. And that ordinarily wouldn't be a problem, if you had all the time in the world. Thing is, you've only got five minutes – and that's including Q&A.
Know what your main selling point is, and get there quick.
Bring plenty of business cards
Don't forget that these investors will be hearing from a few hundred startups all within the span of two days. Chances are, they won't remember all of the pitches they've heard. If it seems like a promising session, take it a step further and request politely to stay in touch by exchanging contacts. Even if it didn't work out the way you had envisioned it, there's no telling what doors this initial meeting might open.
Reset with each meeting
Regardless of how well or badly your other mini-dates went, take it back to square one with the next one. Make it a point to keep an open mind for each round, and deliver all your pitches with equal passion and vigour.
Just because it didn't work the previous round, doesn't necessarily mean that it won't for the next. On the flip side, even if things are looking rosy, there's no harm in casting your net wide and giving your best for each meeting.
Keep your cool
One thing's for sure – many tough questions and less-than-convinced looks will come flying your way. After all, it's a given that investors will want to see their resources being put to good use. Don't let the heat get to you, and remember that your response is an indication to investors as to how you would operate under pressure.
Keep in mind the above and you'll be all set for your sizzling hot date!
The speed dating sessions will take place on both days of the conference, September 8 and 9. Want to participate? Get your passes here with a 10 percent discount (code: tiatokyo10) if you sign up before August 30.
This post Speed-dating in Tech in Asia Tokyo 2015: The courtship for investors begins here appeared first on Tech in Asia.