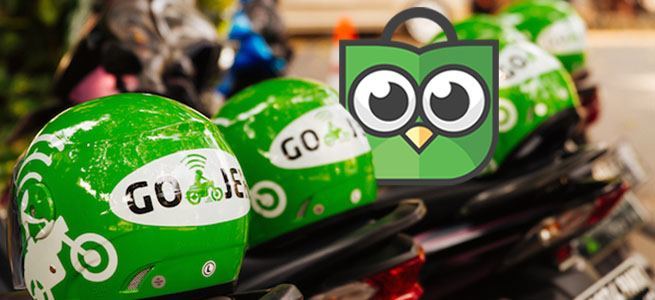 It's been a rather quiet year for Indonesia's popular ecommerce marketplace Tokopedia. This is true despite the fact that it made waves last October by snatching up a record breaking US$100 million investment from SoftBank and Sequoia.
On Monday – coinciding with Indonesia's independence day – the startup celebrated its sixth birthday. It invited media, partners, and merchants for an evening of food and revels.
No bold moves
The media event was brief and lacked the fanfare of any groundbreaking announcements. The company shared some performance metrics: 300,000 active merchants, six million transactions per month at a monthly growth rate of 10 to 20 percent. The growth is impressive, but at 300,000 merchants, Tokopedia is still a small fish compared to ecommerce giants like Taobao in China, which has millions.
The event also introduced a new media campaign, with the motto "create your opportunity." The two founders presented a soon-to-be-aired TV commercial to the assembled press.
No bold moves – like Flipkart's recent decision to go app-only by the end of the year. No strategic acquisitions – as has been key for Snapdeal's evolution.
Getting squeezed
Tokopedia at six is just getting started. But it's in a tough position. The marketplace targets millions of Indonesian micro and small businesses to sign up as merchants. The sheer volume of these merchants creates high growth potential. But small-scale sellers in the archipelago are used to selling directly on social media. In fact, Yusi Obon, the head of communication at Bukalapak, Tokopedia's closest competitor, recently told the media, "The true rivals for us are Facebook, Twitter, and BBM."
A 2014 study by Singaporean ecommerce logistics provider SP eCommerce confirms only 20 percent of ecommerce in Indonesia happens on dedicated ecommerce sites, while the rest occurs on social media, mobile messengers, classified listings, and online forums.
At the other end of the spectrum, the consumer-to-consumer model both Tokopedia and Bukalapak are banking on is getting squeezed by increasingly operations-heavy ecommerce enterprises that promise same day deliveries, and payment options like cash-on-delivery (COD), which Tokopedia doesn't offer.
The Sequoia-effect
But the CEO William Tanuwijaya says Tokopedia is not that kind of startup. "We are not an ecommerce company, and we are not going to get into logistics," explains Tanuwijaya at the event. What's next for Tokopedia then? One particular path was brought up in a passing. "Tokopedia is currently in trials with Go-Jek for deliveries in Jakarta," Tanuwijaya reveals.
This in and of itself is not so surprising, as many players have partnered with Go-Jek in the capital. Go-Jek has evolved into a courier service in its own right. But it becomes more interesting when you dig deeper. First, Go-Jek is rapidly expanding across Indonesia, which could make it possible to offer delivery services for Tokopedia transactions outside Jakarta.
Second, Go-Jek in its early days was a delivery partner for Lazada Indonesia – helping the firm institutionalize its COD method. Could this be a way for Tokopedia to join the COD party while Indonesia collectively waits for epayments to become more widely adopted?
Third, Go-Jek recently hinted it's thinking of expanding its services into trucks and vans. Consider what that could look like a few years down the line. "Go-Truck," as Go-Jek founder Nadiem Makarim dubbed the concept, could form an on-demand-delivery fleet for Tokopedia.
Sequoia Capital, one of the investors in Tokopedia, could play a role in orchestrating a long-lasting partnership between the two startups. The word around the campfire in Indonesia is that Sequoia Capital also invested in Go-Jek, but the company did not comment on the matter and has not issued a formal statement.
From their DNA, Tokopedia and Go-Jek are a perfect match. Both are created by local founders with a deep knowledge of the idiosyncrasies of the Indonesian market. They've been around for years – long before ecommerce and logistics became a semi-mainstream game. They're not competitors and have complementing features: Tokopedia can build up the base of vendors and buyers, while Go-Jek can provide on-demand services and transportation. This is the beginning of an interesting alliance.
This post The future of Tokopedia could lie in an alliance with Go-Jek appeared first on Tech in Asia.