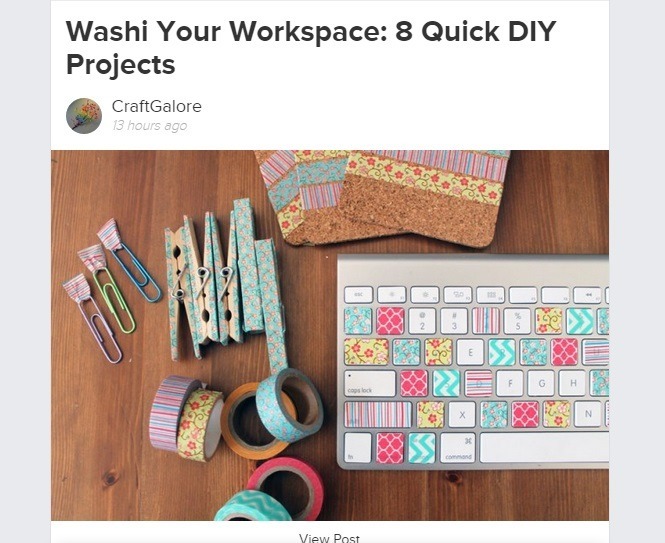 Sahil Baghla launched a fan merchandise store called Bluegape in 2011. The startup created fan art with the help of 500 designers and sold the designs on online marketplaces like Flipkart, Snapdeal, and Amazon. It also went on to raise seed funding and clocked orders worth US$152,000 per month. But then it ran into the brick wall most fan merch companies eventually face: copyright infringement. Bluegape had to be shut down.
But this didn't stop Baghla and his co-founder Ayush Varshney, classmates from Indian Institute of Technology, Kanpur. The duo launched a new user-generated content platform within two weeks of the shut down. They pivoted.
"Everyone is an educator in one way or the other. Everyone has some knowledge or learning to give back. Visual blogging is a great way to express yourself in this fast moving world of short attention span," says Baghla.
The new Bluegape allows users to make collaborative listicles with visuals and embed them on other sites. It's a mix of Quora and BuzzFeed – the startup has a user-generated content creation model like that of Quora and a social media-oriented consumption model similar to that of BuzzFeed.
Today, Baghla revealed that Bluegape has secured US$600,000 in funding from Times Internet, Rudy Gopalakrishnan of Fidelity, and Ah! Ventures. This round comes just five months after the startup raised a US$200,000 round.
"Our vision is to make communication of ideas and knowledge very easy. On Facebook, Instagram, and SnapChat, we are connected to our close group of friends. They are like your private social identity. Bluegape, on the other hand, will be your public social identity which is about self-expression with the world," Baghla said.
Users have created a niche fashion blog, a feminism blog, celebrity fanclubs, and lots of other content. In all, the site claims to have 15 million unique visitors every month creating 100,000 listicles.
Next Facebook?

"Pivots are never easy. But Bluegape proves that you need a good team, persistence, passion, and enough motivation to bounce back," says Harshad Lahoti, founding partner of Ah! Ventures who feels that Bluegape is a social media disruptor.
"Bluegape is reinventing some of the most basic structures of human interaction. It is the next Facebook or LinkedIn. Visual blogging is a new concept which can be the next big social interactive platform," he adds.
The fresh funding will be used for expanding the tech team to improve the user experience.
Bluegape was one of several dozen ecommerce casualties in India before it pivoted. It was a TLabs-incubated company and had raised US$300,000 through equity based crowdfunding platform LetsVenture.
But its new space isn't short on competition either. In India, the online media space has been simmering with activity. A number of sites have raised funding over the last year. Some of these include ScoopWhoop, which raised US$1.6 million from Bharti Softbank; News In Shorts, which raised US$24 million from Tiger Global; and Scroll, which raised an undisclosed amount in funding from Omidyar Network and New York-based Media Development Investment Fund.
However, unlike the others, Bluegape relies on user generated content and positions itself as a platform for social interaction.
This post They battled copyright issues with fan merchandise store; then pivoted to visual blogging appeared first on Tech in Asia.