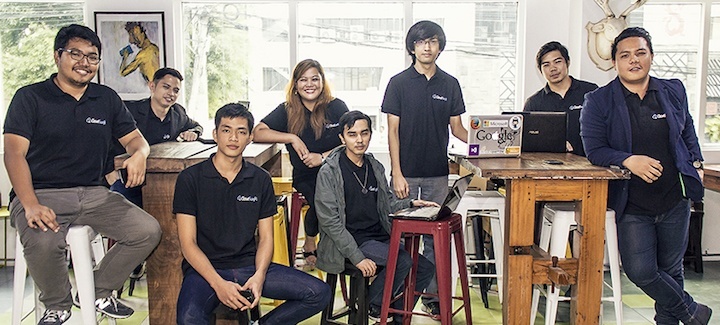 The CloudSwyft team.
"There's a ton of bullshit in people's CVs, especially about IT skills," says Dann Angelo De Guzman, founder of Philippine startup CloudSwyft. This is a major problem for employers that CloudSwyft wants to solve.
Dann says IT guys often oversell themselves or lie about their abilities. Unsuspecting employers who rely on paper resumes and in-person interviews discover this only when the candidates have been hired and are in action. The result: time and money wasted.
CloudSwyft upends the traditional hiring system for enterprises. Instead of asking applicants to talk about their skills, it will have them perform tasks.
"Most tech recruiters don't have any tech background so they don't really know the right questions to ask or how to verify IT skill sets. The best way to assess IT candidates is by giving them hands-on practical exercises. This is where 'prove it by doing it' comes in," Dann explains.
How it works is pretty straightforward. Using CloudSwyft, recruiters can choose a lab environment (Windows Server, Linux, Java, C#, etc.), drag and drop checkpoints or practical exercises, set scoring, save and publish, then assign to a job candidate. When completed, the employer can view the results right away.
So if, for example, an interviewee claims to be an expert in Palo Alto networks, an employer on CloudSwyft may ask them to configure a firewall and connect to a client server successfully.
Not just for recruitment
CloudSwyft also deals with the whole IT employment life cycle, including training.
Dann says enterprises constantly struggle to keep up with the latest technologies and the skills required, so an infrastructure to support staff development is equally important.
CloudSwyft offers customizable learning management systems (LMS), with hands-on lab activities. If in case a third-party LMS is already in use, it could also easily integrate with CloudSwyft. This means aside from watching videos and reading lectures, users can learn a new technology or software product by playing with it, on demand.
"Companies can train their staff by letting them do it, from configuring complex server setups, firewalls, developing code, databases all the way up to basic software product navigation. In fact, companies can also use CloudSwyft to train customers who require and need technical hands-on use cases," Dann points out.
Essentially, he says CloudSwyft acts as an "IT playground" for enterprises. Because of this, he brands it as "labs-as-a-service" instead of software-as-a-service (SaaS), putting it in a league of its own.
CloudSwyft, according to him, has no direct competitor locally, but there are a few "indirect" competitors globally like Pluralsight (for IT training) and TruaAbility (for recruitment).
A tough start
The idea for CloudSwyft was born from Dann's experience in the corporate world. The 23-year-old engineering graduate worked for Accenture's IT consultancy arm in 2013, handling cloud computing, next-generation IT infrastructure, and software-defined datacenter technologies. There, he observed how recruitment and training processes were "very slow, tedious, and inefficient."
"I also saw the need to complete the end-to-end IT employment life cycle by addressing the business cases for the SDLC (Software Dev Life Cycle) side," he recalled.
He continued, "I didn't waste time. I talked to different enterprise companies, from BPO, ITO, software product companies, cloud consulting companies, IT and HR directors. I realized there's definitely a huge opportunity in the market to solve this problem."
So that same year, he quit his job to found RocketLabs, a SaaS for IT training. "But I made a lot of mistakes, never had a clear direction. I also lacked funding, hence I relied too much on contractors and made wrong decisions on company structure," he says. Long story short, the startup folded.
Dann decided to give his idea another try and became "entrepreneur-in-residence" at Future Now Ventures, under the leadership and advice of businessman John Orrock, in 2014.
Equipped with his past experiences and a US$200,000 seed funding from Future Now Ventures, he launched CloudSwyft, with a stronger vision, in April 2015.
CloudSwyft released its first version in July and got its first customer the same month.
Dann says while their customers think their solution is entirely novel, the sales cycle has been quite slow. Some clients need handholding at early adoption stages.
Nevertheless, he says they're working closely with their paying customers and are now in talks with global tech companies like Cloud Sherpas and Fujitsu for pilot deployments. "Our goal is to consistently gather feedback, execute on constant iterations, and continuously meet our customers' needs."
Dann is bullish about their opportunities. After all, companies know very well that talent is their lifeblood and they can't screw up in that aspect.
This post This startup will let you know if a techie bullshits on his resume appeared first on Tech in Asia.