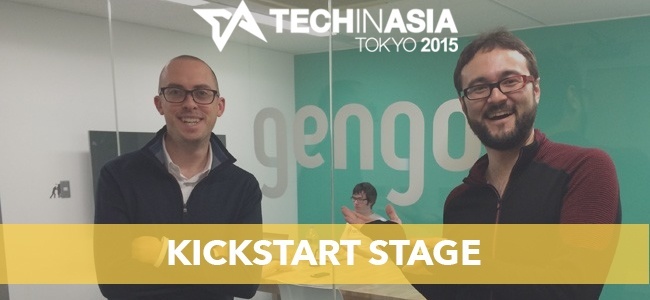 Kickstart Stage enjoyed a phenomenal response at our conferences in Jakarta and Singapore with its hands-on approach for startups who want to catalyze their business growth – and it's making its Japan debut at Tech in Asia Tokyo come September 8 and 9.
If you're on the lookout for the means to fuel your startup and get it running fast, Kickstart Stage is where you can get your juice. Learn all you need to know about community engagement, expanding beyond Tokyo, and how to make startup-corporation partnerships work – all over the two day conference.
Of course, it never hurts to hear from real-life case studies as well. Catch some of Japan's top startups sharing their best practices in the below sessions.
Morning Pitch @ TIA Tokyo 2015 – day 1
Held by Tohmatsu Venture Support, a subsidiary of Deloitte Tohmatsu (Deloitte), Morning Pitch is among the most loved pitch events in Japan (here's an inside look at one of their sessions). Startups from around Japan gather weekly to deliver their pitch to an audience and several investors with the intent of forging business alliances between startups and enterprises. The event has flourished from its humble beginnings of a following of 10, to over 75 regular attendees per session, and has seen 600 startups pitching across a total of 100 editions.
Its growth in popularity is growing across borders as well, with monthly pitches currently being held in Singapore.
Now, you can experience firsthand what it is about the event that keeps drawing (and growing) its faithful following week after week, at Tech in Asia Tokyo's Kickstart Stage.
All startups go through a thorough selection process by Tohmatsu Venture Support, so you can be sure you're in for a good show!
Tech in Asia IoT Business Camp Demoday – day 1
Tech in Asia and Hatapro recently concluded an intensive two-day internet-of-things (IoT) Business Camp aimed at discovering and supporting the next generation of innovators. With leaders in the IoT field mentoring the most promising startups in Japan handpicked by IBM, participants were tasked to improve their existing business plan using IBM Bluemix products, and were then assessed in a pitch off to companies and investors.
Find out which startup prevailed, as we unveil the winner at the Kickstart Stage on day 1.
The winning startup will demonstrate their pitch live to the audience – you might just be looking at the future of IoT.
The Winning Formula for US-Japan Hybrid Companies – day 2
Tokyo and San Francisco are increasingly popular places for bilingual founders to set up their startups, while a growing number of American unicorns are zeroing in on Japan as the next market to expand to. Have you wondered what challenges lie in store for these companies, given the vastly different cultural and operating styles?
Hear from a panel of experienced CEOs who've been there and done that – successfully.
Matt Romaine, co-founder and CEO at Gengo has recently compared running a startup in Japan to Silicon Valley. It'll be interesting to hear where he thinks Tokyo's tech ecosystem is heading towards and if challenges will remain the same.
Ray Grieselhuber, founder and CEO of GinzaMetrics will be sitting beside Matt to share his experience of running a startup with presence in both San Francisco and Tokyo. He has previously written a comprehensive guide on SEO in Japan.
We will also be welcoming Japanese-American Brandon Hill, founder of Btrax, on stage as the panel moderator. It would be an understatement to say that Brandon has experience in the topic – he runs a company specializing in market services, and has grown to be a key piece of the puzzle for companies expanding between the United States and Japan.
Thinking of setting up a business in either of these startup hotbeds? Definitely sit in on this session – you might just learn a shortcut or two here.
##
When you've gained inspiration from the amazing work these startups are doing and can't wait to get your own hands dirty, you're sure to find other sessions at Kickstart Stage handy in gaining an edge to scale your startup.
Day 1:
Startup Metrics for Mobile Pirates (EN) – Edith Yeung
Edith Yeung, partner at 500 Mobile Collective will take you through the blueprint for boosting your mobile venture to the next level.
How to Startup Outside of Tokyo (JP) –
Masa Hashimoto, Founder and CEO of Nulab, Masaaki Yoshikawa, Director at Osaka Innovation Hub and Isshu Rakusai, Founder and CEO of Nota, Inc.
Get firsthand insights from leading entrepreneurs and Japanese government officials in this session to learn how Japan's startup community is flourishing outside of Tokyo.
Day 2:
Communities with Traction: How to Create Fans and Ambassadors (EN) – Aya Zook, Principal at Microsoft Ventures and Johnny Linnert, Managing Director of PechaKucha
An all-star panel joins us to talk about how startups can make meaningful connections with their users both online and offline to make them a part of a larger movement.
Why Startups Fail in Large Corporations (EN) – Naohiro Nishiguchi, Japan Innovation Network Executive Managing Director, Kensuke Okabe, Manager of Business Strategy Planning at Nissha Printing Communications, Inc and Sorato Ijichi, Founder and CEO of Creww Inc.
Startup-corporation partnerships should be a win-win situation. But why do so many of them fail? Our panel will look at recent case studies to identify where large corporations fail startups how to best remedy the situation.
Yet to get passes?
Sure – there's plenty of literature on the tricks of the trade lying around. But there's nothing like hearing real-life accounts and exchanging ideas with other aspiring startups.
Get your tickets to join us on September 8 and 9 today!
This post Turbocharge your startup at Kickstart Stage appeared first on Tech in Asia.