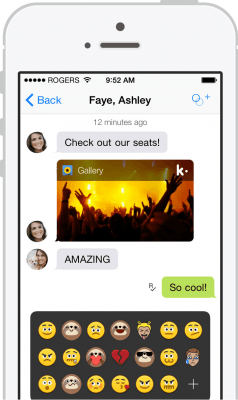 China's Tencent, maker of the WeChat messaging app, has invested US$50 million in Kik Messenger, reports Recode. The funding was confirmed by Kik CEO Ted Livingston.
The Canadian startup says it has 240 million registered users and claims that 40 percent of American teenagers are active on Kik.
There are no details on what kind of strategic partnership Tencent and Kik will have in the wake of the investment. The injection of cash values Kik – which has raised US$120 million in total – at just over US$1 billion.
WeChat revealed last week that it has 600 million monthly active users, but the company hasn't revealed how many of those are outside China. Tencent invested in Snapchat in late 2013.
(Source: Recode)
This post WeChat maker Tencent invests $50M in rival Kik appeared first on Tech in Asia.