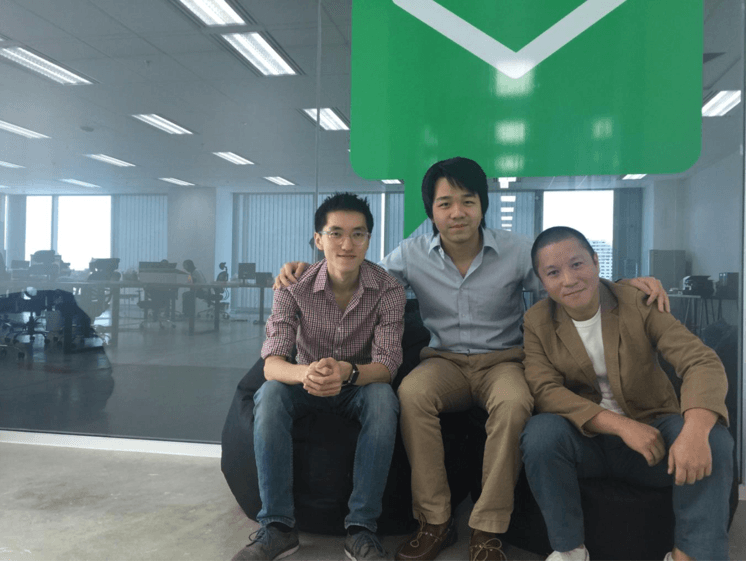 (L-R) David Zhang, co-founder and CTO; Korawad Chearavanont, CEO and founder, and Bernie Tay, COO and CMO, at Eko's Bangkok HQ.
While Slack gets all the headlines, most people around the world are using one of dozens of other workplace messaging apps. One of those apps, Eko, today revealed that it has secured US$5.7 million in series A funding to help it pick up new users. The investment in the Thai-American startup was led by China-based Gobi Partners.
It comes 16 months after the Eko team nabbed seed funding led by 500 Startups. Earlier backers also contributed to the series A round.
Teen entrepreneur
"Whereas Slack is very strong for companies with under 50 employees, our product is not as strong for that segment," says Korawad Chearavanont, the 20-year-old founder and CEO of Eko. "Our product only begins to truly add value to bigger companies. Our biggest revenue-generating customer has approximately 150,000 employees, for example."
"They have a very different set of problems from small businesses, and we work to resolve those features," he adds.
Even though Eko is going for larger firms, the app has the mobile-first mentality and the WhatsApp-esque interface of the new wave of business chat apps that are toppling the old dinosaurs like Yammer – apps like Slack, HipChat, Flowdock, Convo, Cotap, Pie, and Fleep.
Korawad says Eko works a bit differently from some of its rivals by having a "high touch" relationship with some corporate clients that extends to them getting custom versions of the Eko app – not the app available for download on Google Play or Apple's App Store. "I can't yet disclose certain customers, due to the stage of launch, but I can say a few top 10 ASEAN banks are paying customers and they have a very specific set of security and regulation needs which we can fulfill, whereas Slack cannot," he explains.
The startup is keeping the number of active users under its hat.
Korawad is the son of billionaire telco tycoon Suphachai Chearavanont, the president and CEO of True – and he's the grandson of Dhanin Chearavanont, the wealthiest man in Southeast Asia with a net worth of over US$14 billion. Eko was started up from Korawad's New Jersey boarding school dorm room when he was 17. The main product office remains in New York, and the startup has opened up a business office in Bangkok.
Charging into China
The next step for the Eko team is China, where Korawad claims the app already has some traction. Indeed, most of Eko's revenue is generated in China. Inspired by that, the startup plans to open an office in Beijing within the next few months.
Eko's iOS app: yes, there are emojis.
He says the app has grown "organically through word of mouth from execs in current clients" in China. It's also taking a tailor-made approach for some major clients in the country.
"Our full launch in China was not intended or planned until much later. Our traction is different from the traditional early traction many startups may get. In China, we work with entities associated with the government," Korawad says, but further details on who or how are kept under wraps.
Chinese startups are working on enterprise chat apps of their own – most noticeably Maimai, which this time last year got US$20 million in series B funding.
Korawad sees Eko standing out from Maimai just as it does from Slack – by working closely with some of the huge companies that use it. And he hints at more to come, propelled by this growth in China. "We will enter [China] in an unconventional and big way, which, when we do, you may not recognize us. Our priority is to grow our platform – growing our brand is secondary. Our long term vision is not to be an enterprise messaging app, but rather to be a mobile enterprise platform."
Whatever form that takes, the startup has a China ally in its newest investor.
This post Workplace chat app Eko gets $5.7M series A funding to make teams productive, quit Slacking appeared first on Tech in Asia.