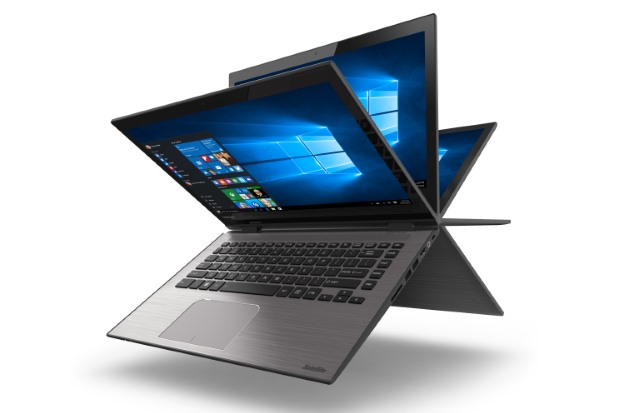 Today Toshiba unveiled three new devices designed to take advantage of Windows 10: the Satellite Radius 12, the Toshiba Satellite Radius 14, and the Toshiba Satellite Click 10. The largest of the devices — the Satellite Radius 14 — is a 14-inch laptop with a 360-degree rotating screen which offers a total of five operating modes.
The mid-sized Satellite Radius 12 features a smaller 12.5-inch screen, and the rotating screen allows for multi-position use. Rounding off the trio is the Satellite Click 10, arguably the most interesting of the bunch, which boasts 14 hours of battery life. The detachable keyboard makes this a Surface competitor and gives the choice of working in laptop or tablet mode.
The Satellite Radius 14 is an ultra-slim device that can be used in laptop, tablet, tabletop, presentation, and audience modes. A brushed aluminum finished gives a quality look, and the Harman Kardon speakers with DTS Sound enhancement are ideal for all manner of tasks. There's a choice of AMD Quad-Core processors and up to sixth generation Intel Core processors, and an optional SSD helps to take the battery life up to 10 hours.
Next in line is the Satellite Radius 12 complete with an Ultra HD 4K screen. The display is crafted from Corning Gorilla Glass NBT reinforcement for extra durability. Finally, there is the Satellite Click 10, the smallest and most portable of the bunch. The device features an Intel Atom processor, backed up with up to 4GB of RAM and up to 64GB of eMMC storage.
All three devices will be available in Q4 of this year, but Toshiba is yet to provide pricing details. The Satellite Radius 14 and Satellite Radius 12 are destined for Europe and the US, while the Satellite Click 10 is due for release in Europe only.