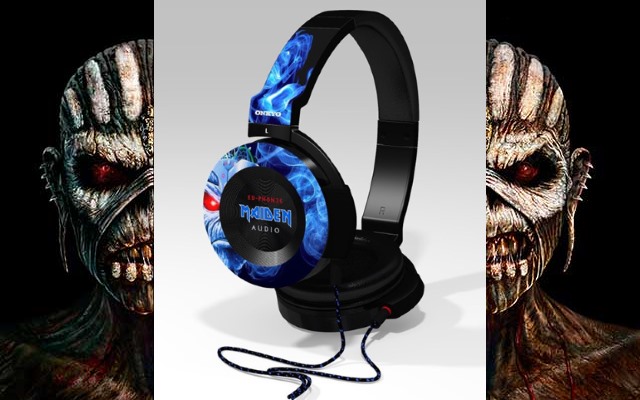 British metal band Iron Maiden has teamed up with Japanese firm Onkyo Corporation to produce a set of headphones — or Ed-Ph0n3s, named after the Eddie mascot. Founder member and bassist Steve Harris used the headphones when mixing the new album The Book of Souls, and fans of the Maiden will be able to get their hands on a pair of their own too.
Designed specifically with rock and metal listening in mind, the Ed-Ph0n3s were on display at IFA 2015 in Berlin this week. We'd already seen mock-ups of the full-ear bins at CES earlier in the year, but now we've seen the finished product and know more about the specs.
No one involved in the production of the Ed-Ph0n3s has said quite why the cans are particularly suitable for metallers and rockers, but what you see in the picture is the result of none months' work. The band says that this time was spent working tirelessly to "fully emulate and ensure top grade quality on the production line within clearly defined tolerances".
Iron Maiden is yet to reveal pricing or launch date, but from the stand at IFA we know the following specs:
Drivers: twin 40mm titanium-coated diaphragm drivers
Frequency: 10Hz to 27kHz
Impendence: 32-Ohms
Pressure: 105db/mW (Nominal)
Max input: 800W
Weight 245g
Cable length: 1.6m
You can check out some shots of Eddie at the IFA stand over on the Maiden Audio website.